Review: The brush set by BornPrettyStore. All you need are brushes!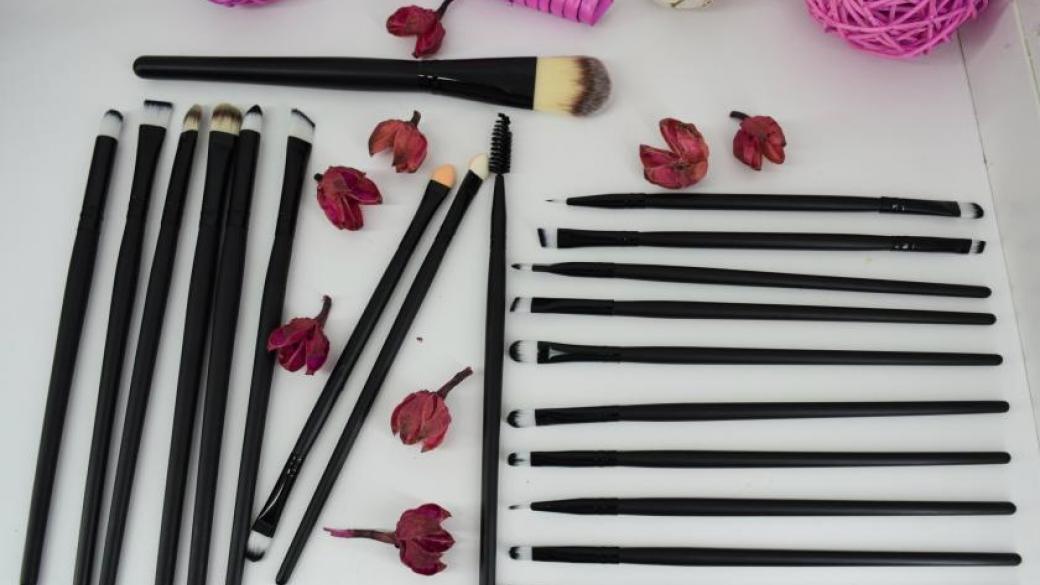 When I ordered a brush set in BornPrettyStore I choose the one with the 7 pieces. I thought that this quantity is enough for usual daily (or even evening) make up. But I got 20! 20 one style brushes which are so versatile and useful! Not all of them are good for me, but the most part is now very helpful and I'll tell you about all this set's properties in my today review!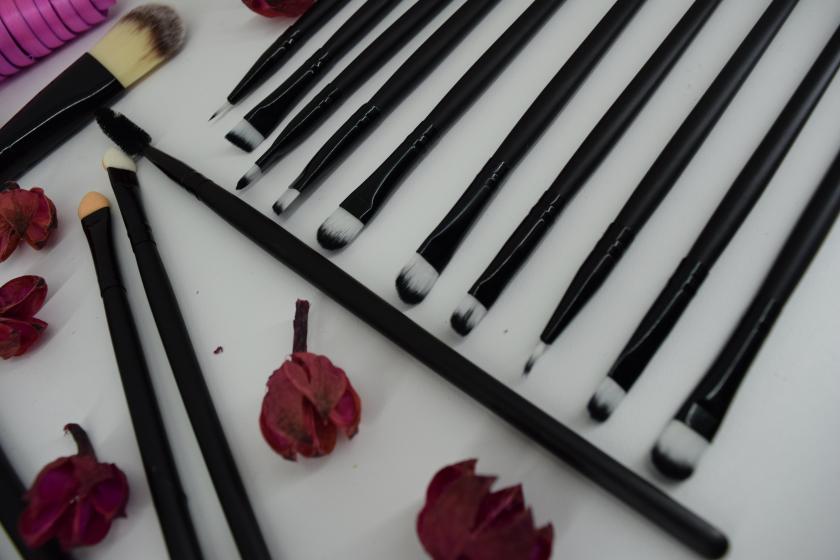 When you have got 20 brushes it means that you will never need something else (of course it will possible if the quality of these tools are good enough). The set by BornPrettyStore have got a decent quality despite the fact that the brushes have got just a synthetic hair. It means that they are good for some crumbly products (especially the mineral ones) but not really good for a liquid cosmetics. For instance I have got no problem with the loose powder or loose eyeshadows but working with a liquid foundation or creamy eyeshadow is really hard.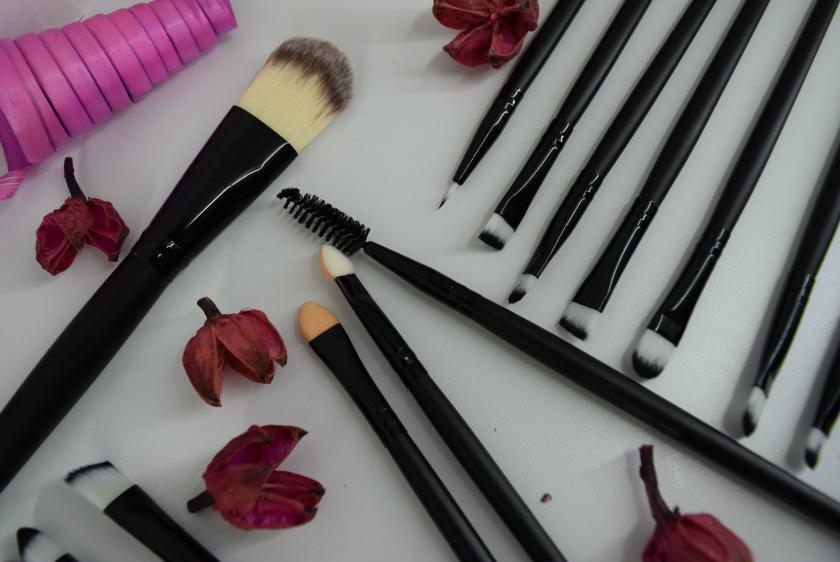 For example this big brush (on the top left corner) seems to be appropriate for liquid foundation if you look just at the shape of this item. But an artificial hair make the job with this kind of product quite difficult - the brush takes the product badly and gives it to the skin also badly, I need to help it to blend the foundation with my fingers. The same story with a creamy highlighters - the brushes give the product to the eyelids very reluctantly. So using the fingers is easier (I'm not talking about a beautyblender!).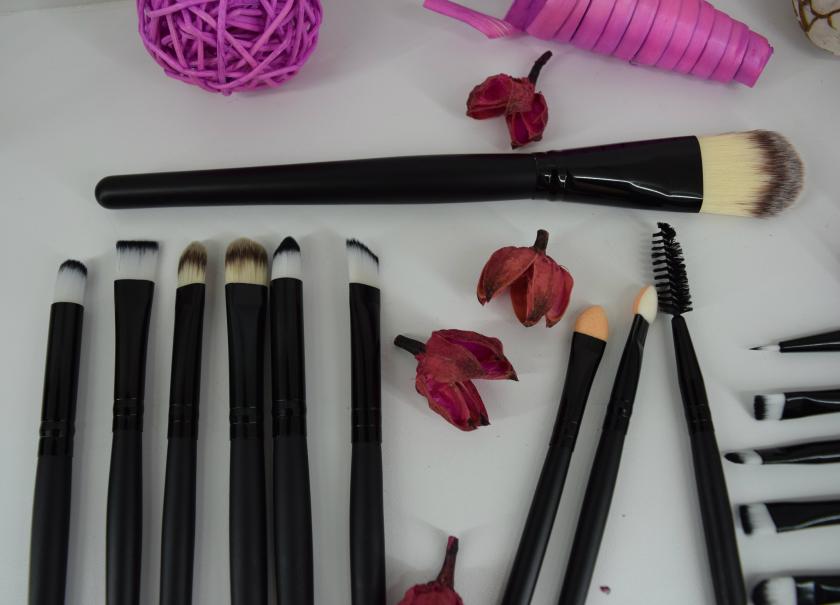 But what's the surprise! The consealer doesn't make any problems if it is put with the brush from this set. I don't know why but it's true. So may be I should find just a special "collection" of cosmetics for these brushes - and I will never have got any problems with them!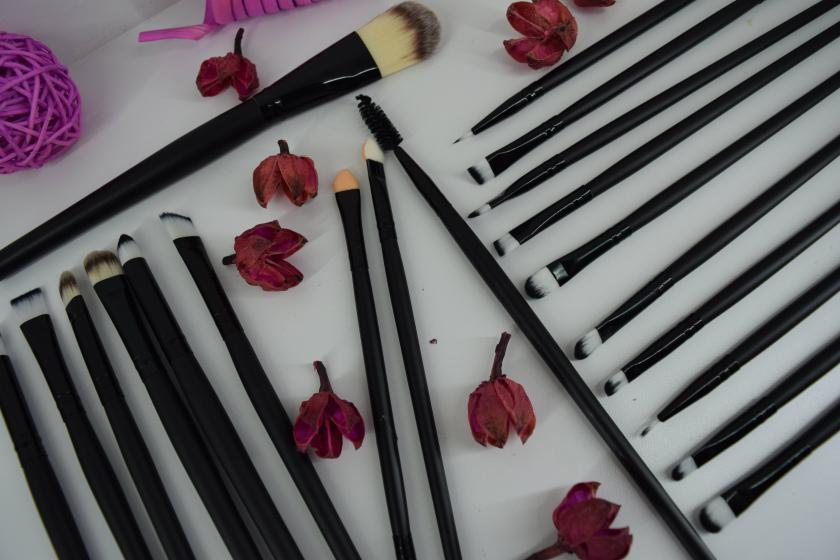 What do I like the most? May be the quantity of the items. This is really versatile set. I have found a very good brow comb here and two or three brushes for consealer. There are also a decent collection of bilateral brushes which are the best choice for travelling. Well, I have even found two sponges which my daughter uses when she paints with watercolors! 
Some of brushes from the set repeat each other functions but it is good for me - all brushes are interchangeable.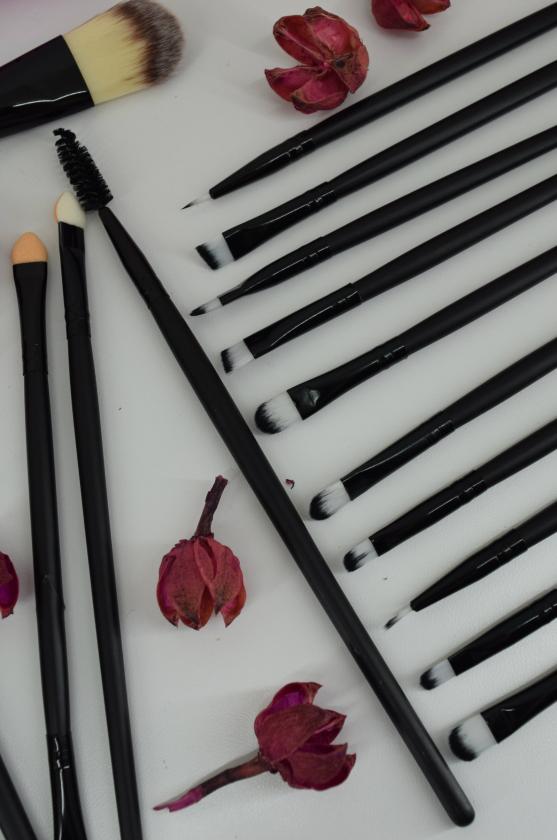 The brushes are very light. They don't look luxury but it isn't neccessary for everyday set. They are just functional and I love their black color and laconic style. And I love that they have got a long handles - for me they are very convenient.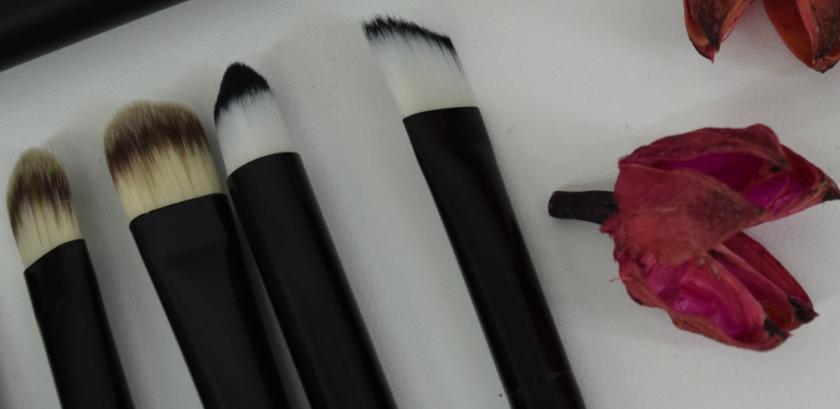 After two week using I have noticed that some of the most "popular" brushes became disarranged. I understand - they are cheap and the hair is just synthetic so it can be not in order very quickly. But I don't worry, there are lots of typical items in the set and I'll always find a replacement for a brush which lost its properties. And when they all are not ok, I'll just buy a new set, it's no problem with BornPrettyStore!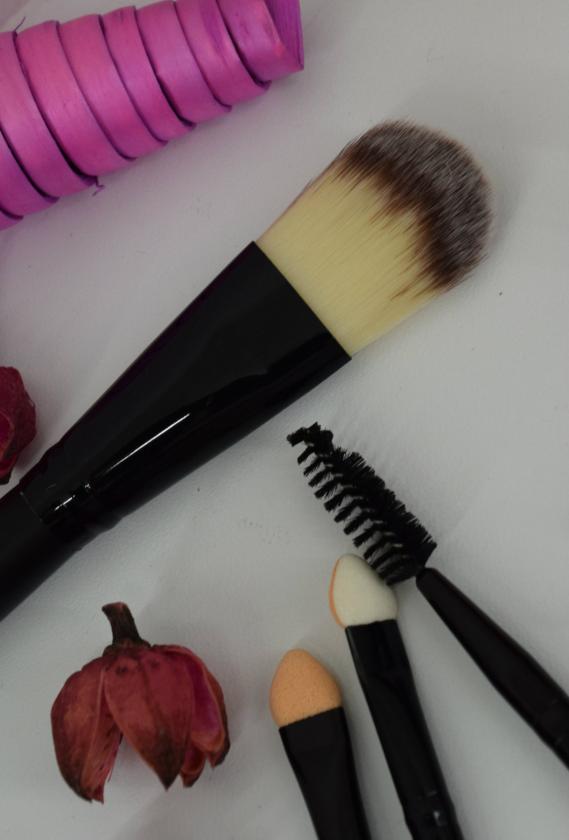 Have you got any cheap brush set? Do you like this kind of brushes or they should be more expensive and professional, how do you think? Where do you buy the brushes?
*The Black Long Makeup Brush Kit Soft Hair Wooden Handled Cosmetic Brush Set was given by BornPrettyStore for independent testing. You can buy these brushes on the web-site of this shop. It will be cheaper if you use my 10% OFF coupon in BornPrettyStore!