Review: Eye fluid Power over time by NATURE med. Don't worry, be young!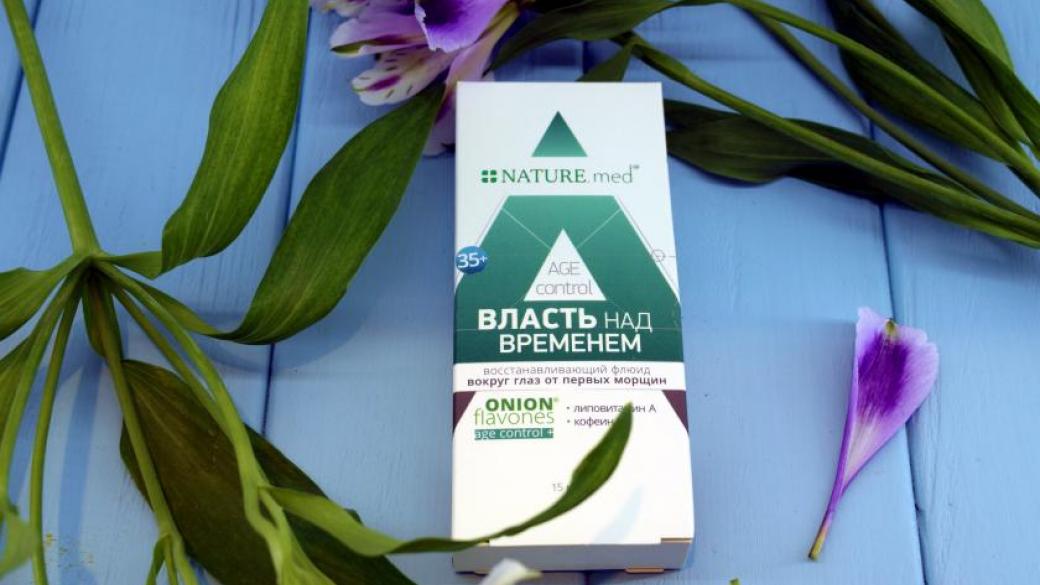 I started to use this product and didn't believe that the skin under my eyes would change for the better. But it changed! Only two week of using and... now I have got may be not ideal but very good skin under eyes without blue circles or edemas. What have helped to achieve this goal? Well, you have understood it yet - the eye fluid Power over time by Ukrainian brand NATURE med. My today review is about this product!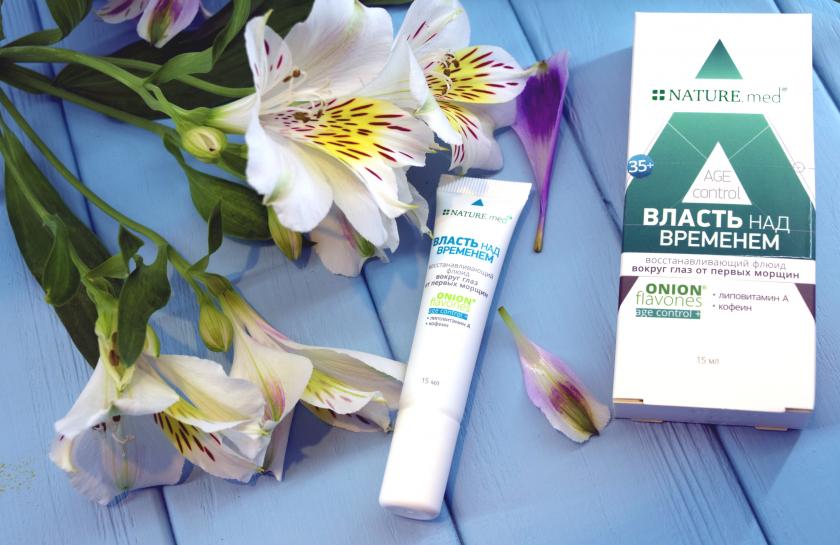 This product is a part of anti-age system by NATURE med. I have got a few other products from this series also and one of them (not this fluid!) is my finding forever, it is a gift for the skin for all cases but I'll tell you about it later. Now is the time for eye fluid!
Yes, this is not just a cream. This is the fluid, really. It's very tender substans which is absorbed very quickly. When it touches my skin I feel just a tenderness, it is a chic moment! I use the fluid two times per a day and I now understand that I even don't want to try something else! This is very unusual for me because I was finding a good eye cream all my life and I wasn't be satisfied even with some famous items. This product may be isn't my ideal but... but... it lokks like an ideal!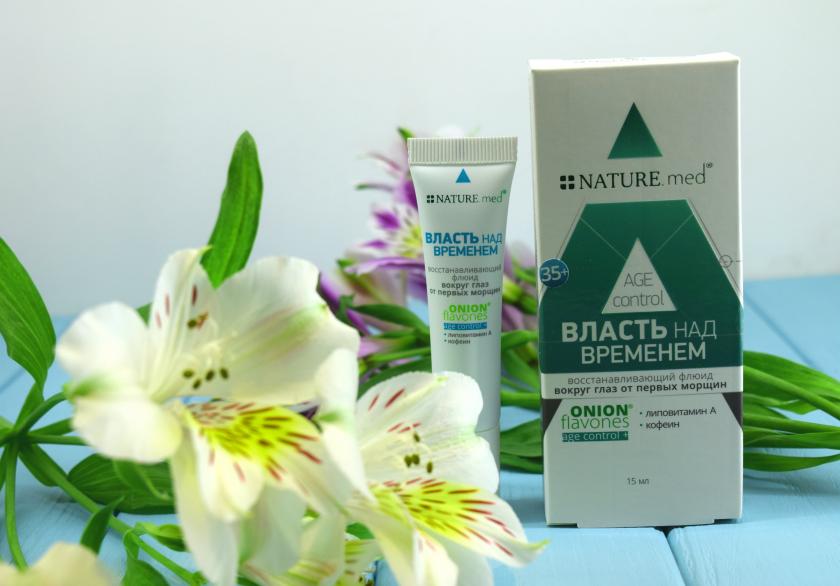 What is this fluid? This a special technology by NATURE med. The product was made especially for a perfect skin care. It makes the skin under eyes fresher and healthier. The fluid tones it up very well and helps to decrease the first wrinckles. The product (as the whole anti-age series Power over time) is suitable for the skin 35+ and despite I'm a little bit younger (haha) I use it without any problems! 
A new active formulas of the Onion flavones age control+ is a base of the fluide by NATURE med. The Onion flavones is very important ingredient which moisturises the skin and makes it smoother, stimulates the skin regeneration and strengthens the collagen fibers. 
The whole list of ingredients (not very good quality of the photo, sorry):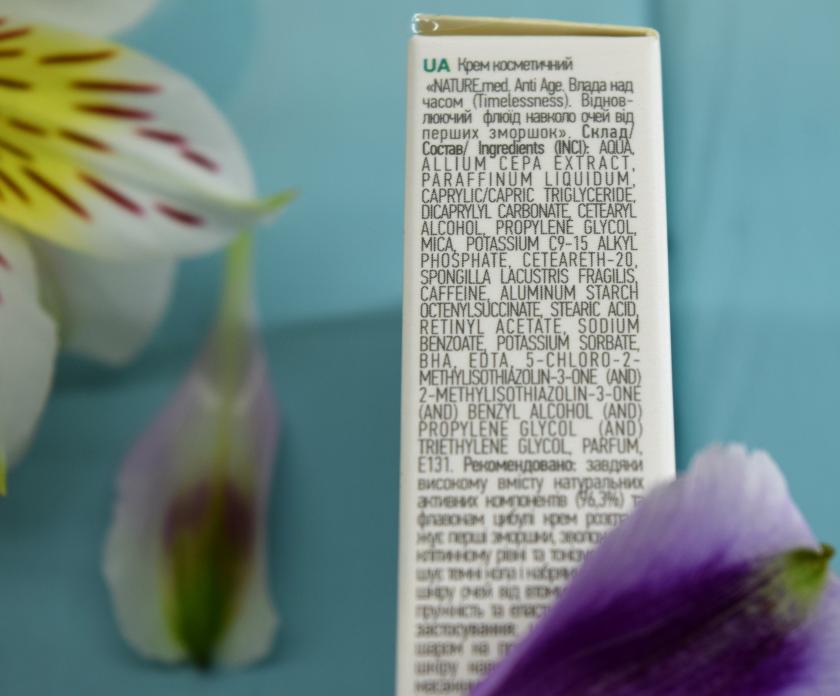 Other important ingredient is a caffein. It also tones the skin up but on a deeper level - on the cellular level. Due to this I can forget about the blue sirkles and edemas. I had suffered from them before I started to use the fluid Power over time by NATURE med. But now I haven't got even a small swelling under my eyes! Even if I sleep badly the skin stays in very good condition! 
Also there is a lipovitamin A which helps if the skin is tired. It protects the skin well and can renovate its lost power. 
I understood that the fluid works well after the first using the product. Yes, it works! And now I even don't use a consealer. Why? The skin is very good! Of course I have got some wrinkles yet. But I understand that the cream (even if it is very powerful) can't make them invisible. But I didn't seek this effect. I just want to help the dry and thin skin start to be better. Now I feel that the skin is more elastic but it didn't become thicker or rough. It's tender as it was earlier.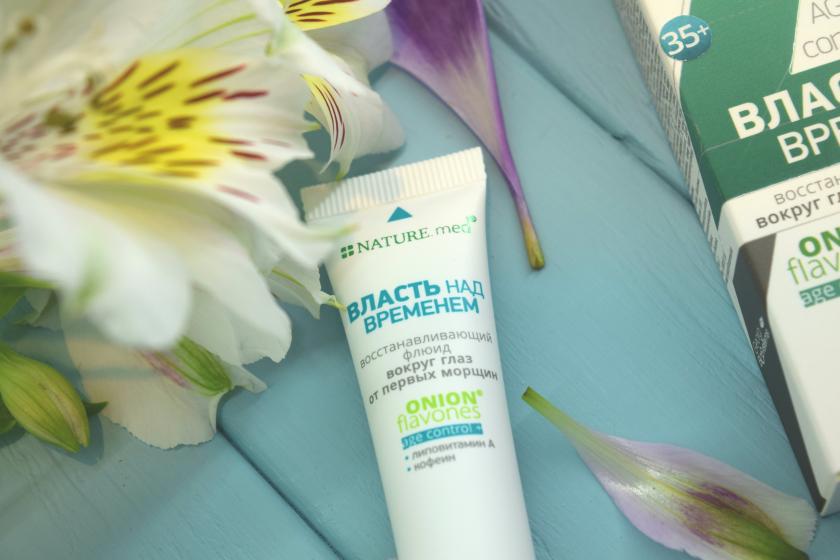 The tube with the fluid is big enough so I can use it long time. And I have got especially big hope on this product by NATURE med thinking about my business trip which will be in the end of this week. I'll go to the city with the sea climate so I'll spend on a beach some time and I hope the fluid Power over time will helpful in this situation!
A swatch of the fluid: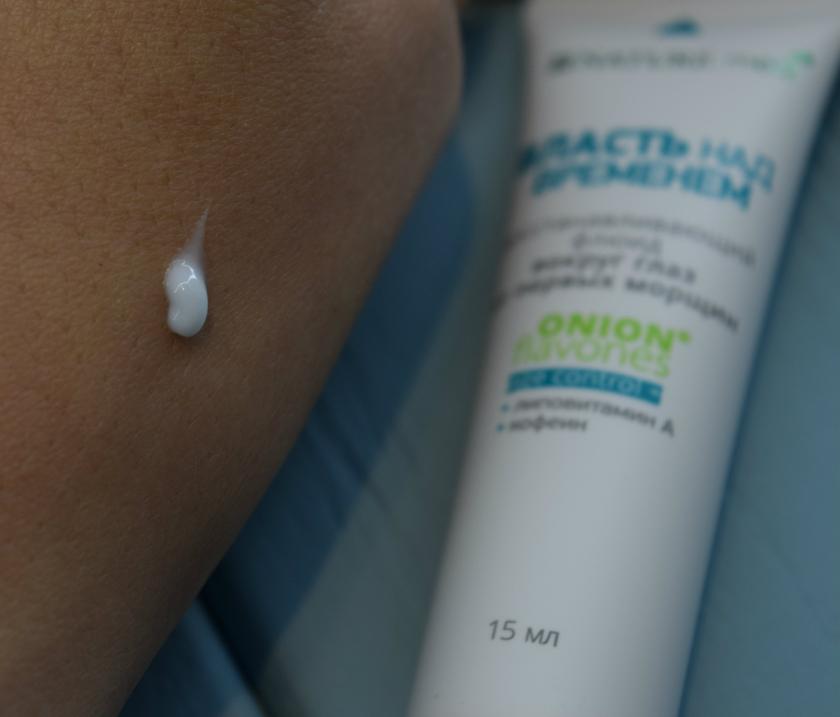 By the way using it is very convenient - the tube has got a usual construction which helps not to overuse the product and take enough quantity of it without any efforts.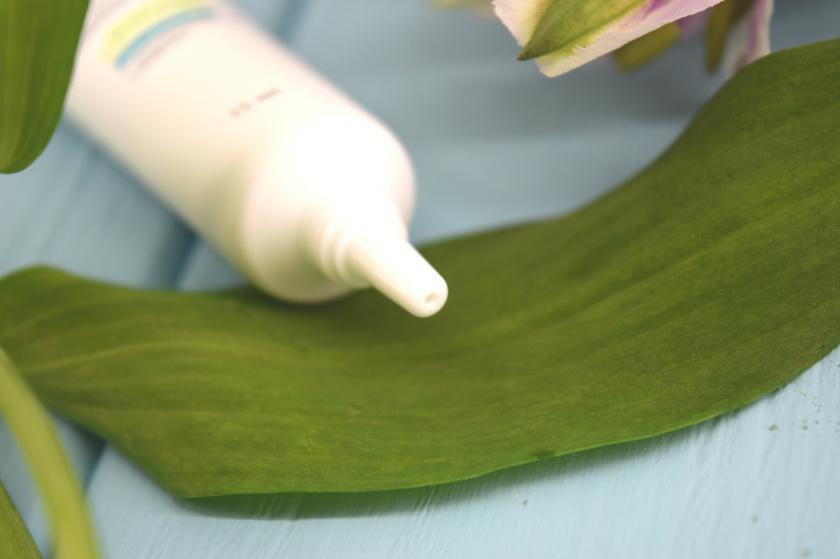 What do you think about this product? Have you used something by NATURE med? This brand makes lots of decent products and I want to tell you about them as more as possible!
*The fluid Power over time was given by NATURE med for independent testing. You can find it on the brand's web-site. Also cosmetics by NATURE med is sold in some lines of the shops in Ukraine.