Review: Facial scrub by Mirelin. The most tender care! How to use the scrub rightly?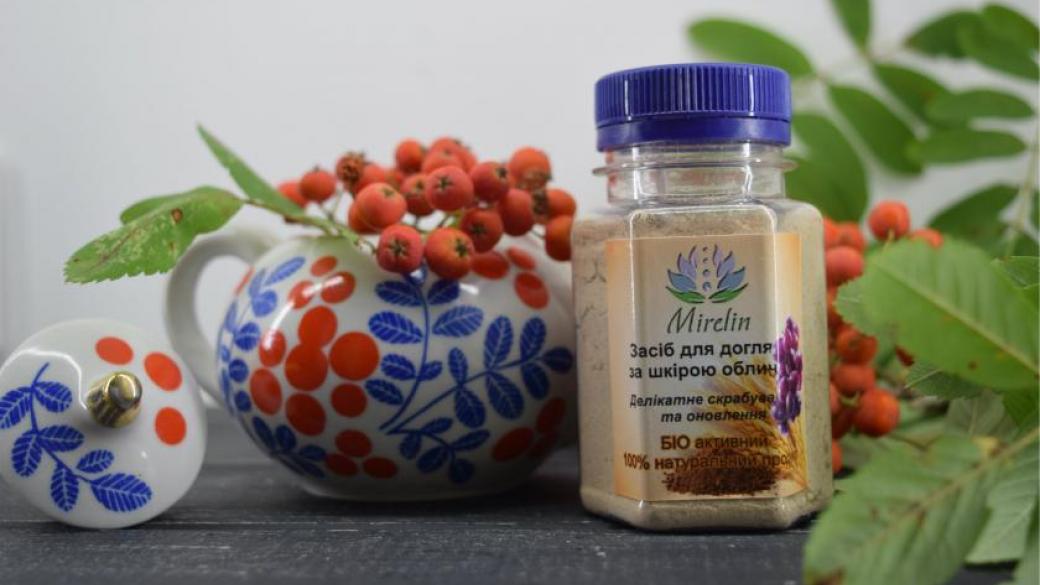 I like all scrubs the Ukrainian brand Mirelin makes for face and body. I have used different of them – especially a few products for the whole body, the hands or the foot and all of them have been very effective. Today I want to tell you about a new scrub – the facial one. Mirelin offers a very tender product which looks like a trendy ubtan – this is a skincare product which gives a delicate exfoliating effect and renovation of the skin. How does it work? I'll tell you about it in my today review.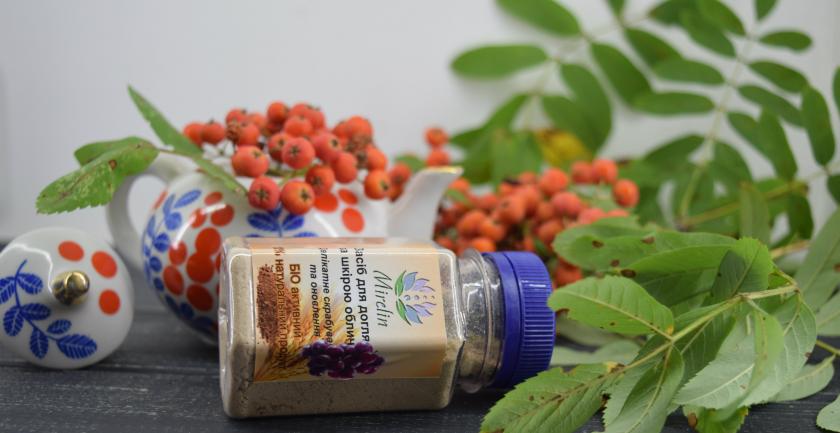 The scrub by Mirelin looks like other brand's products and even has got the same kind of a composition. This is a tender powder in which you need to add water before you will use it. You should get a thick consistency which looks like a sour-cream. This consistency is very convenient for using – scrub never flow on the skin, and doesn't make spots. You can regulate the density of consistency if you need.
You can find a small spoon in a plastic bottle with the product so taking a product is very easy. This is an advantage of Mirelin and I really like it! You just take one spoon of a product and one spoon of a water and this proportion is the best for one procedure of exfoliating.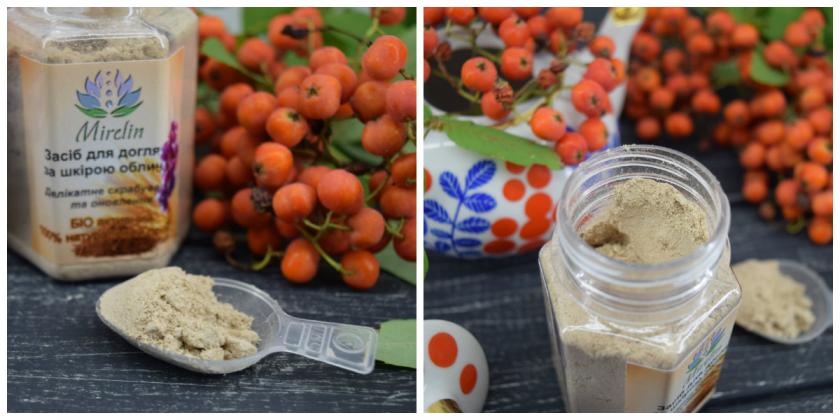 Why have I told you that the product is similar with an ubtan? Because it has got the same texture and almost the same composition. The ubtan is a composition of different herbs. The scrub by Mirelin also contains vegetable ingredients but not only them so we can't call it an ubtan. 
The whole composition: dry composition of sprouted cereal (oats, wheat, rye), natural minerals, presscakes of grapes and sesame, powders if chick-pea and cacao. 

The composition is absolutely natural and the skin feels this – after the first using of the scrub by Mirelin my face has become very tender and silky and I get not only good exfoliating effect, I also feel that the skin is moisturizing well after an each procedure. Also the producer says about good anti-age effect but I don't big problems with the skin so I can't see the difference between my skin before using this product and now.

How to use this tender scrub? 
The way of using is usual for Mirelin's products. You should make your scrub by yourself and just put it on the skin. 
How often to use this product? Well, I think all typical rules work in this case. You should:
Use the scrub 1-2 times per a week – this is enough for the skin which needs effective cleansing but shouldn't be injured or irritated with the aggressive rubbing;
If you have got a sensitive or problem skin you shouldn't use the scrub very often – all harsh products only redouble problems. But the scrub by Mirelin is special. It is very soft so you can be calm – your skin won't suffer from irritation but you should to find your own "timetable" – how and when you will use this product;
If you have got a few acne take a break with a scrub. Even this tender product can make problems, just wait for the end of inflammations and then use the scrub. It will help you to make the skin clean and reduce post-acnes.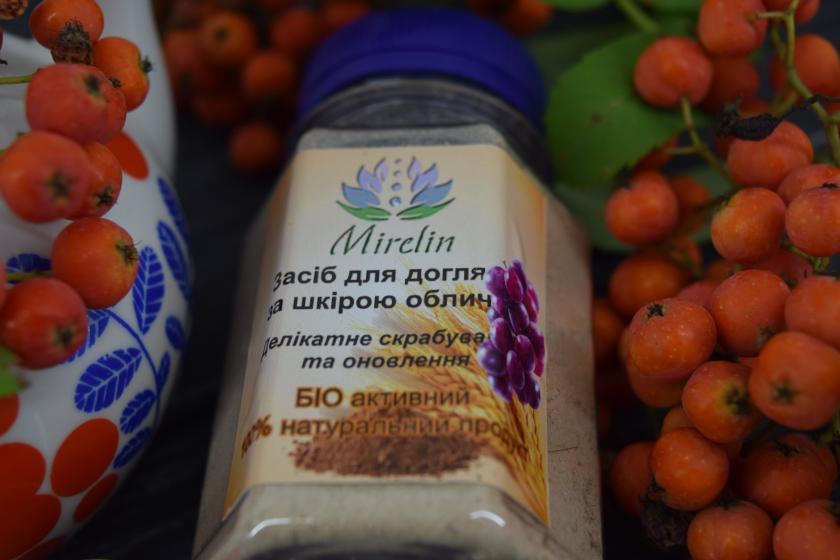 And one more secret. The best time for cleansing the skin with the scrub is an evening. This product by Mirelin is suitable for this never better! You will relax if you use it before going to bed and you will have got absolutely smooth skin in the morning!
Do you like this kind of cosmetics? Have you become acquainted with this Ukrainian brand? How often do you use a facial scrub?
*The facial scrub have been given by Mirelin for independent testing. You can order this product on the web-site of this brand.