Review: Haircare products by Biokon. Everything you need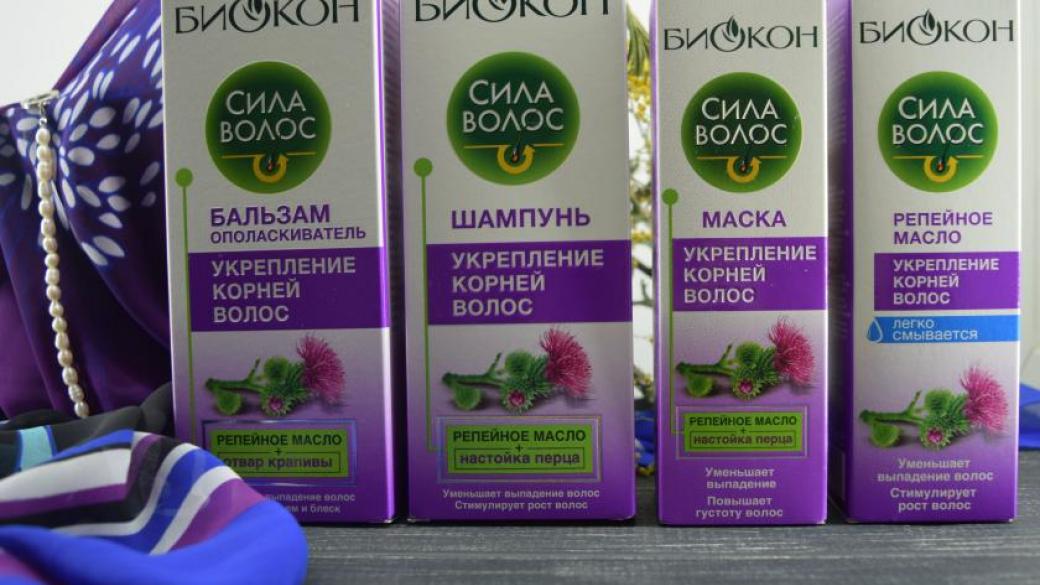 Biokon is a brand, which works as a magic wand for me. If I need something urgently and if I don't know, what to buy, I just go to Biokon website and find a product there. A cream? It will work well. A shampoo? It will be effective! A sunscreen? I'll never have got problems with it! Today I want to tell you about four haircare products by this brand, which weren't surprises for me: all of them worked perfectly as I had realized.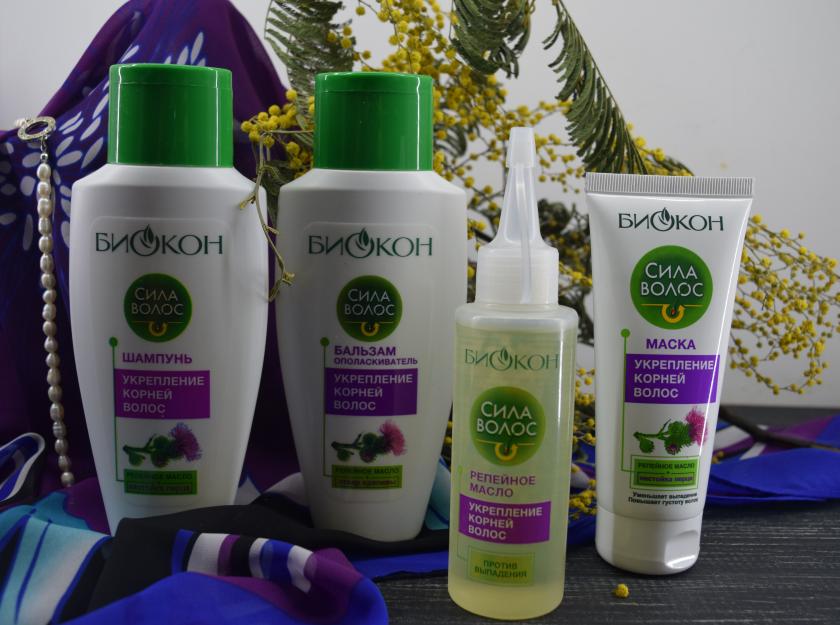 Biokon offered me all I need for haircare. This is a series Power of hair, which contains of:
A shampoo with burr oil and tincture of pepper,
A balm with burr oil and decoction of nettle,
A hair mask with burr oil and tincture of pepper,
A pure burr oil.
All products promised to strengthen my hair, decrease the process of their loss, make them longer and shiny.
So how did they work?
The shampoo Power of hair had got the best properties for me. It is transparent – a good idea for my oily hair! And the shampoo by Biokon washes them out very well. After one using, I never should repeat the procedure!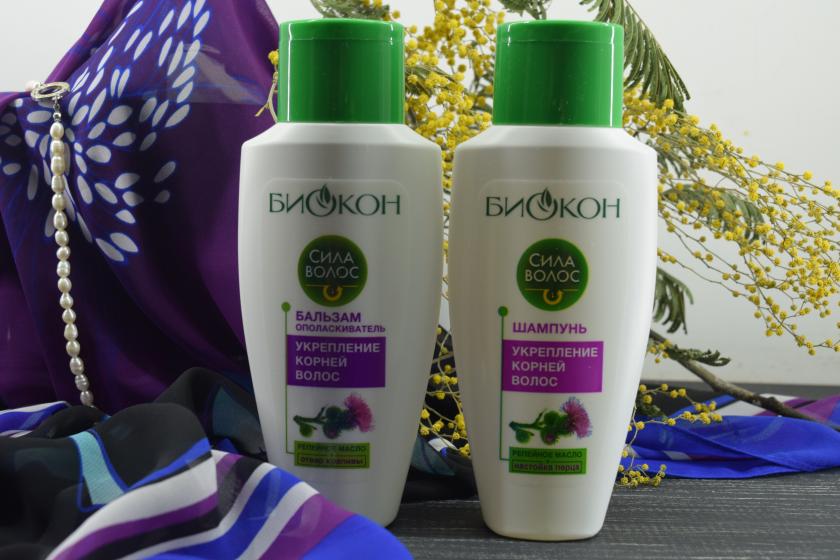 A сomposition:

Not ideal, but it works!
The hair look very well after the shampoo Power of hair. And they are… I even don't know how to describe this feeling. They are silky and even a little bit heavy – but this is a very pleasant heaviness. When an each hair lays perfectly and shine brightly.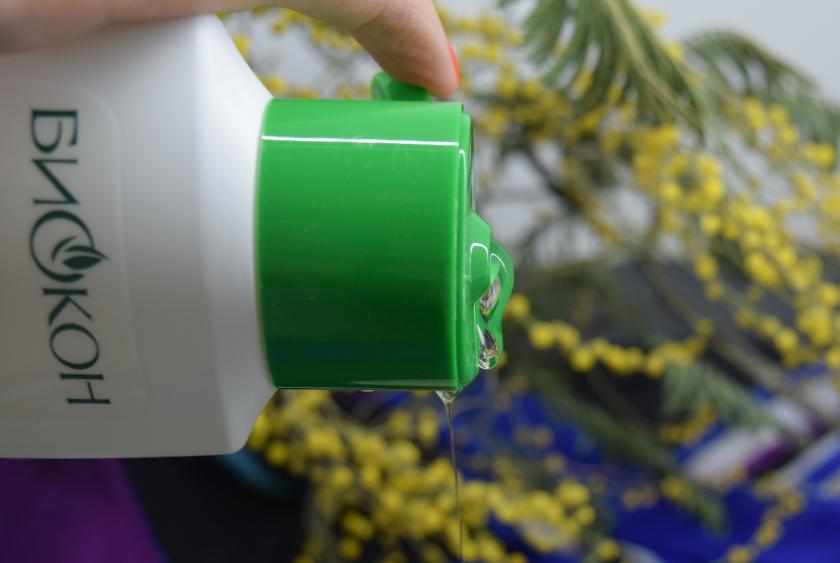 I feel how the hair become stronger already in the end of the process of washing. But they are also quite harsh – if I don't use a balm, the hair are combing out badly. So I always put on them the balm by Biokon from the Power of hair series.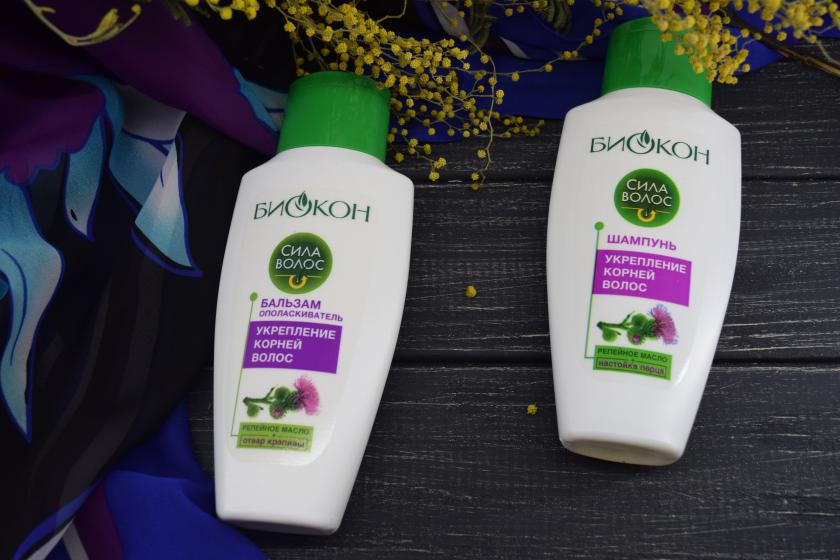 It looks as usual products of this type. A white substance – not dense, not liquid. But it works effectively! The hair after it are so soft and are combing out easily. I love touching them all day after a washing. And I don't know how it's possible but the balm makes the ends of the hair less harsh. Even if there is a problem with them, the ends with this product lays perfectly, their harshness isn't noticeable at all.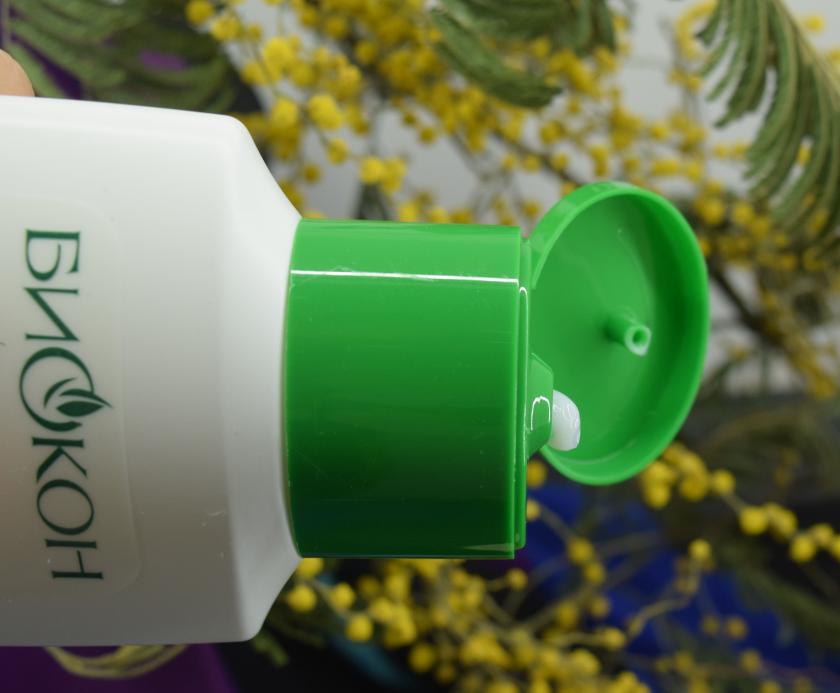 A composition:

The best feature of this balm – it works quickly! I don't need to wait for a half of an hour. Just a one minute and… there is a result! Due to this I tried to use the balm by Biokon every day. Even if I was in a hurry, this product helped well. 
One time per a week I use a hair mask Power of hair. The shampoo and the balm have already finished but the mask is very long-lasting (despite it hasn't got a very big volume).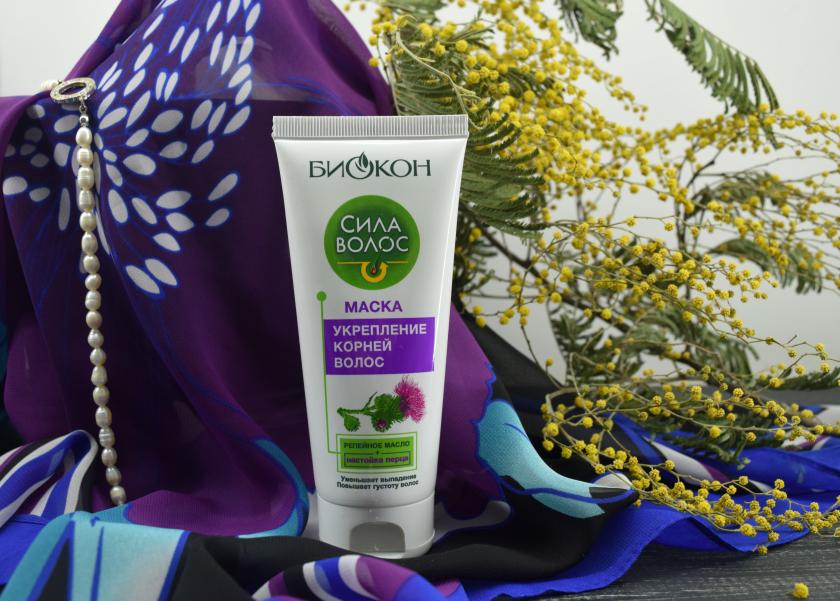 I need a small portion for my short hair. Then I keep the mask 20-30 minutes and when I wash it off, I feel that here is less products than it was – my hair "ate" it! After the mask hair look like just a pure silk! Very strong, healthy, shiny… And I especially like how they lay – I love turn my head and feel that the hair just "fly"!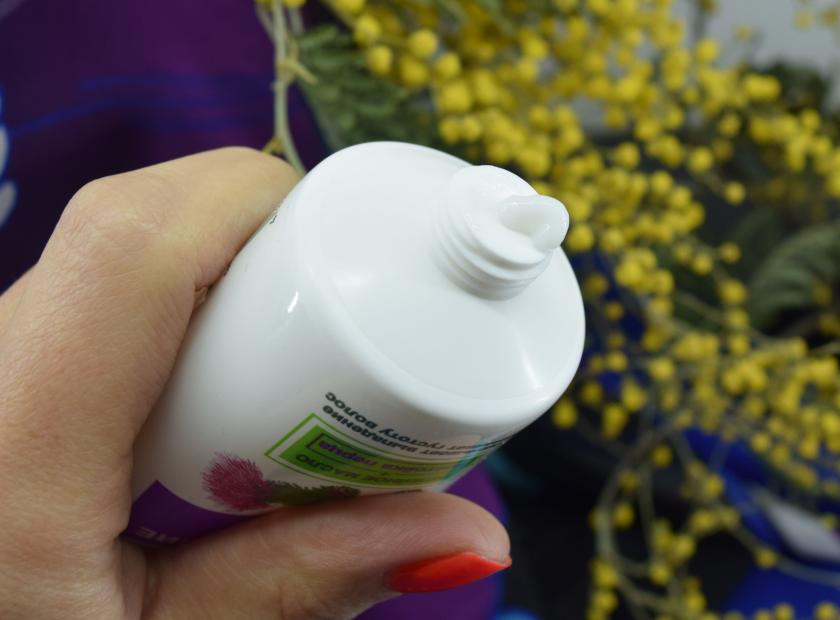 A composition: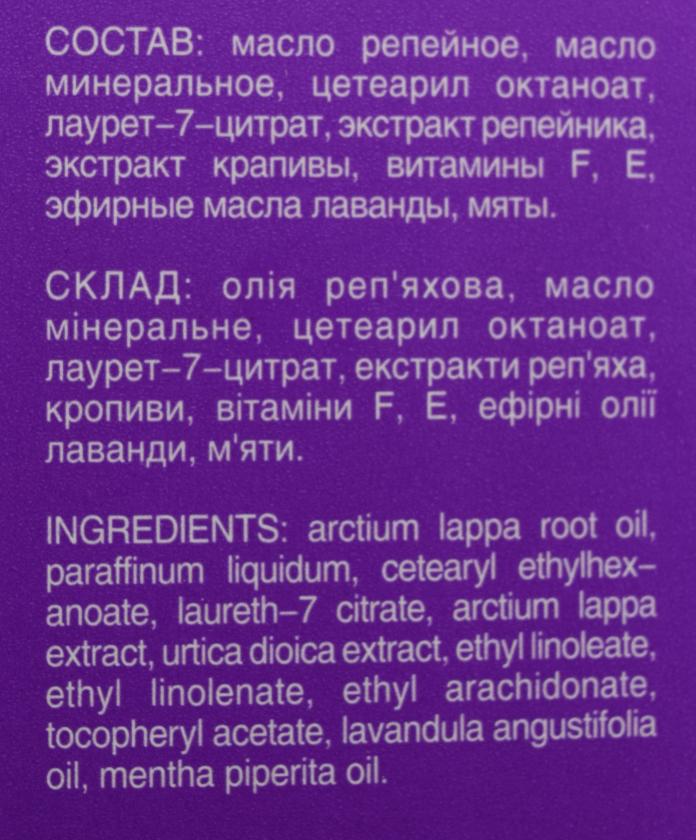 And the fourth product – a pure burr oil Power of hair. I use it hardly ever because all other products by Biokon work well and I don't need so powerful help. The oil makes the hair incredibly strong, I even can feel how they start to grow up! This product makes them so healthy and I think it will be irreplaceable in winter, when the hair will suffer from lots of negative factors of the weather.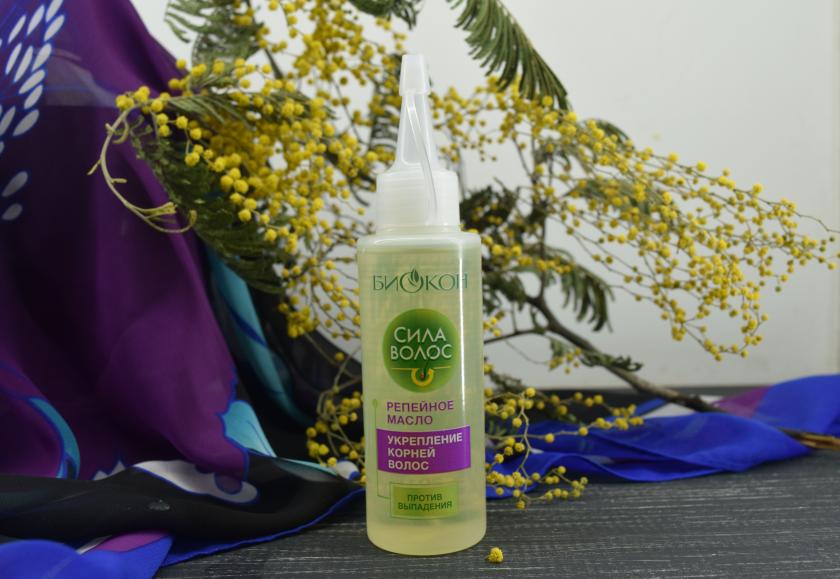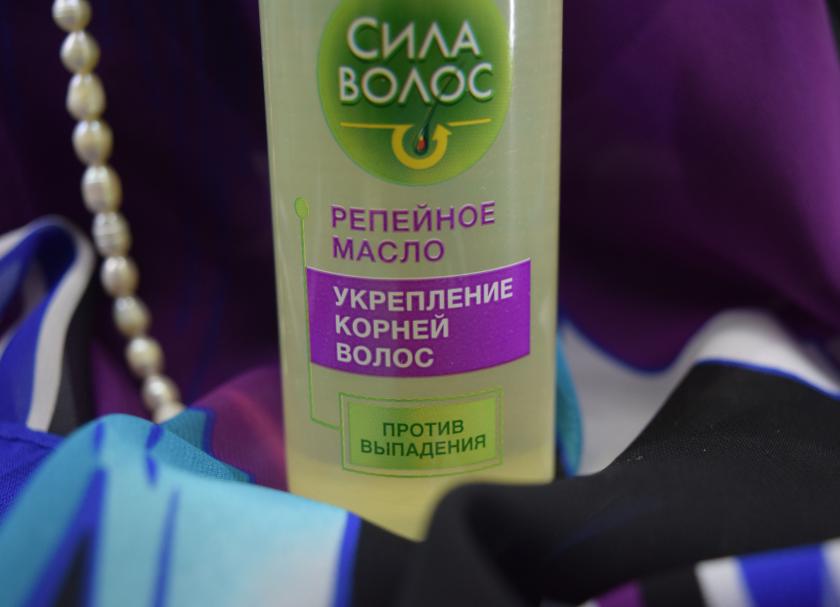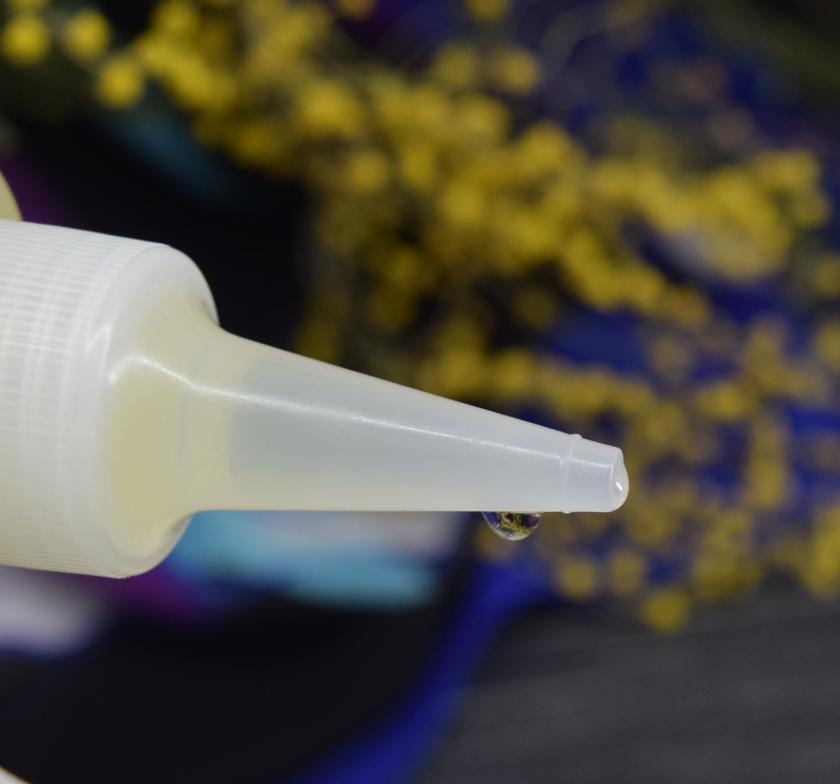 My resume
I think this series by Biokon is a successful brand's novelty. After a few using of the products my hair became more healthy and stronger. I see that I don't lost lots of them – only a few hairs during the process of washing plus a few ones during the combing out. And even when the shampoo and the balm Power of hair were finished I noticed that the effect is kept. The series stills work, even after I stopped to use it! That's why I love Biokon and I'm sure, I'll buy its products again!
Do you agree with me? Do you try something by this brand? May be you also know this series?
*The series Power of hair was given by Biokon for independent testing. You can buy these products in some lines of pharmacies or on the web-site of the brand. Prices:
the shampoo - 41 UAH ($1,5)
the balm - 46 UAH ($1,7)
the hair mask - 36 UAH ($1,3)
the burr oil - 48 UAH ($1,8).