Review: The solid perfume Flower Powder by Lюtique. When you smell like a magia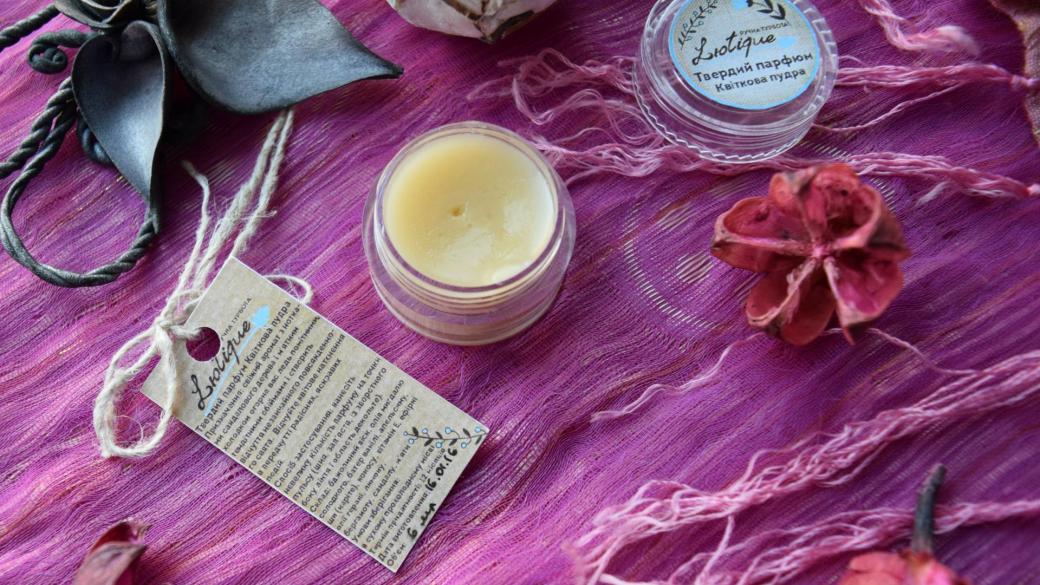 When I heard about it firstly I couldn't imagine how I can use it – the solid perfume as a type of products was so unusual for my. But when I got this small jar by Ukrainian brand of organic cosmetics which is called Lюtique I understood everything instantly! This product became a very beautiful item in my collection and now I can't understand why I have been living without it so long time! My new fave and one of the most interesting product for me ever – the solid perfume Flower Powder. Read about it in my today review!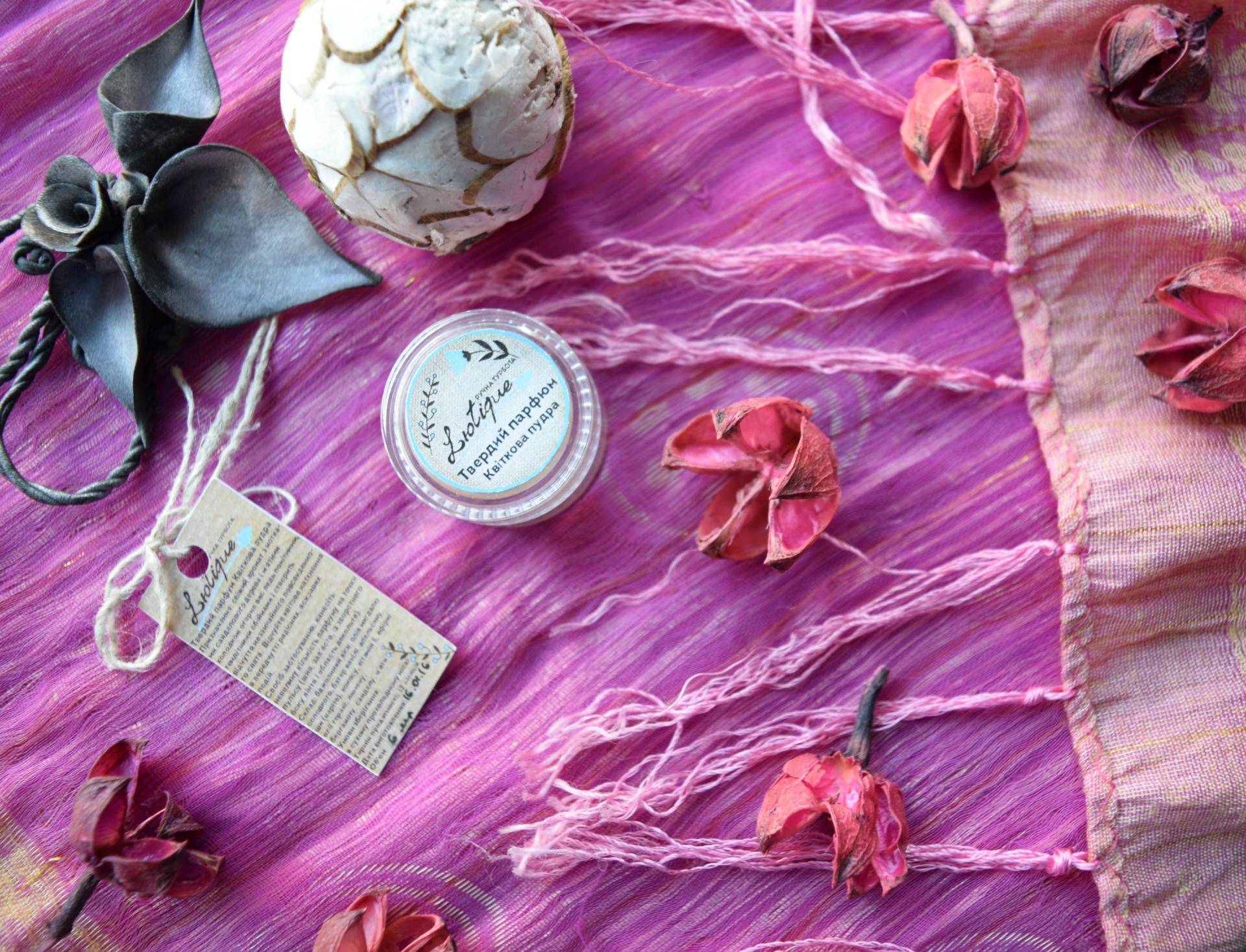 The solid perfume is really non-standard product. It is very small but very bright and you don't need very big jar in order to use it almost always. It is very lasting and is used slowly. The jar has got a size of a usual tester for instance of mineral powder but there is quite a lot of product. I'm wearing it during almost two weeks and I even can't see that it has been decreased. Hope it will be with me for years!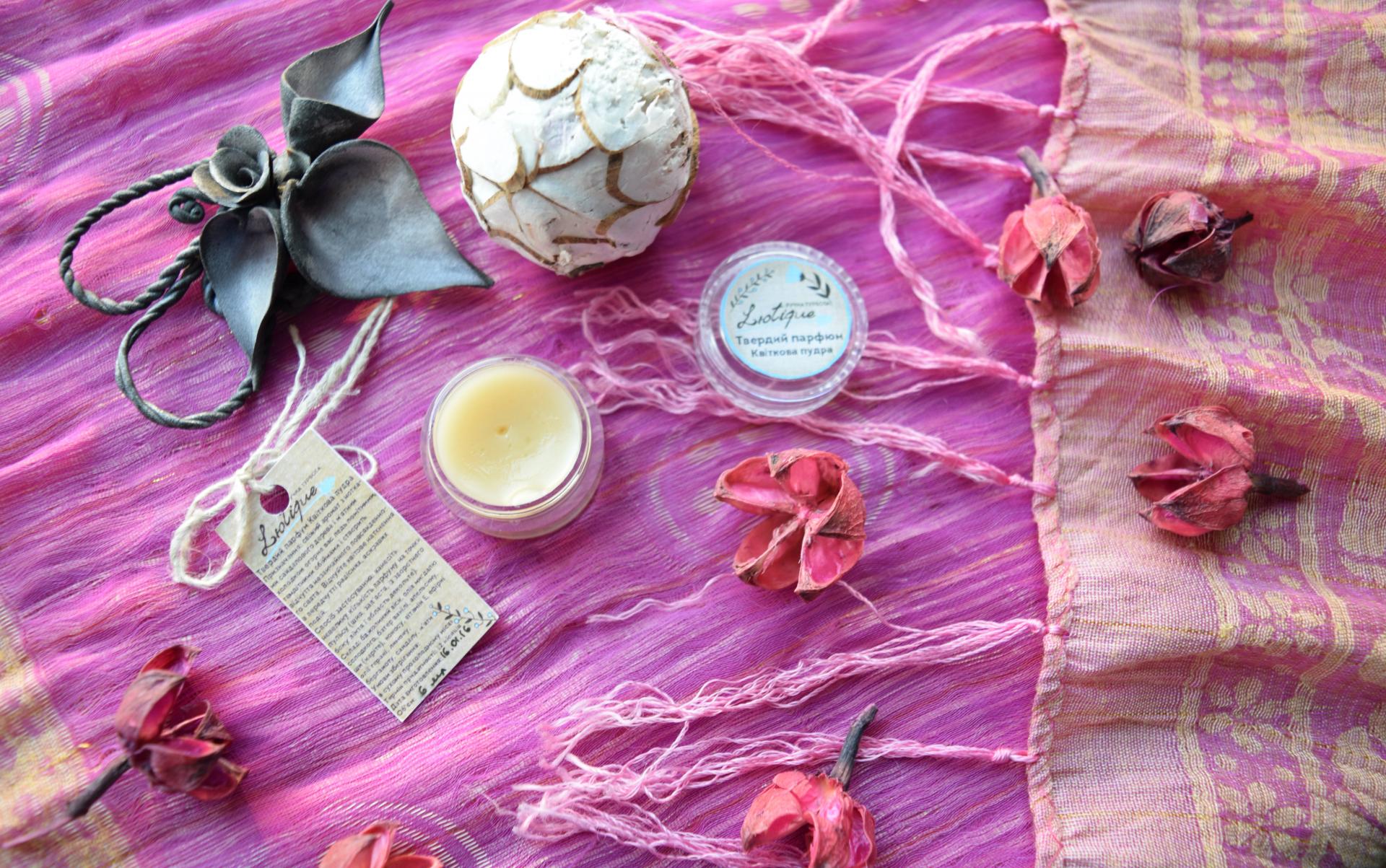 What do I love? The product is so changeable. Firstly you get a jar which has got quite usual aroma with a little bit heavy notes. There is a note of sandal tree and it is... not for everyone. When I smelled it the first time I even thought that I wouldn't like it. But when I put on the skin... The perfume by Lюtique "works" on the skin during 3-4 hours and all this time it opens its magic properties. You just try to catch new and new notes, new and new secrets. It can be heavy and rich or light and elusive. Now it is usual and then, only one minute ago it is the most ideal perfume in your life. It can be fresh. Can be sweet. Can be acerb. It's always different and that's why it is mine. Fully.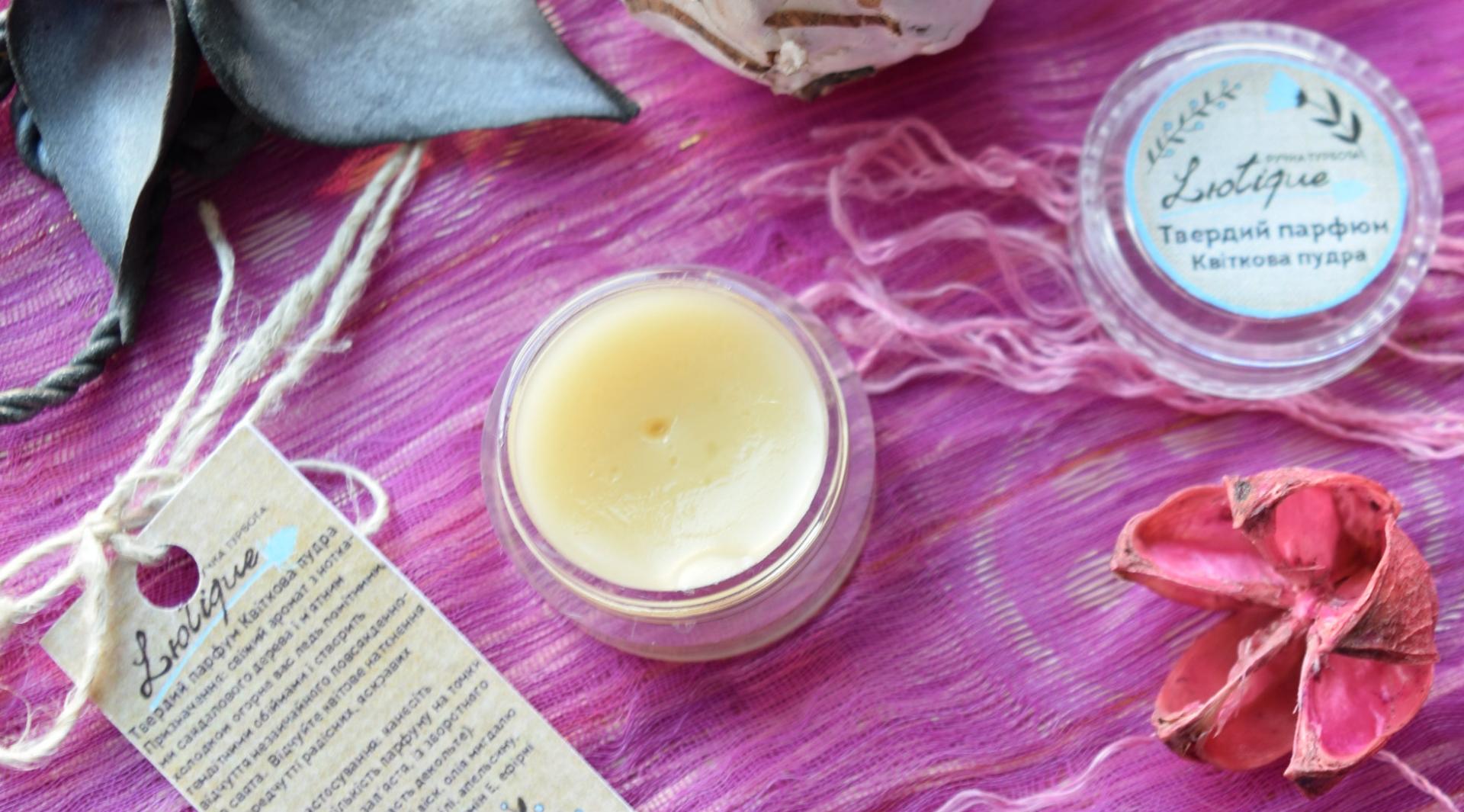 The producer says that this aroma is fresh and has got not only sandal tree's note but also mint coldness. And yes, I feel it and I love mint so I never have got problems with products that contain of it. It should remind you about the holiday and inspire you every day. Yes, it does it I also feel some wintery undertones - sometimes Flower Powder smells like a day before the Christmas. Something like the waiting of miracle. Something like a magia.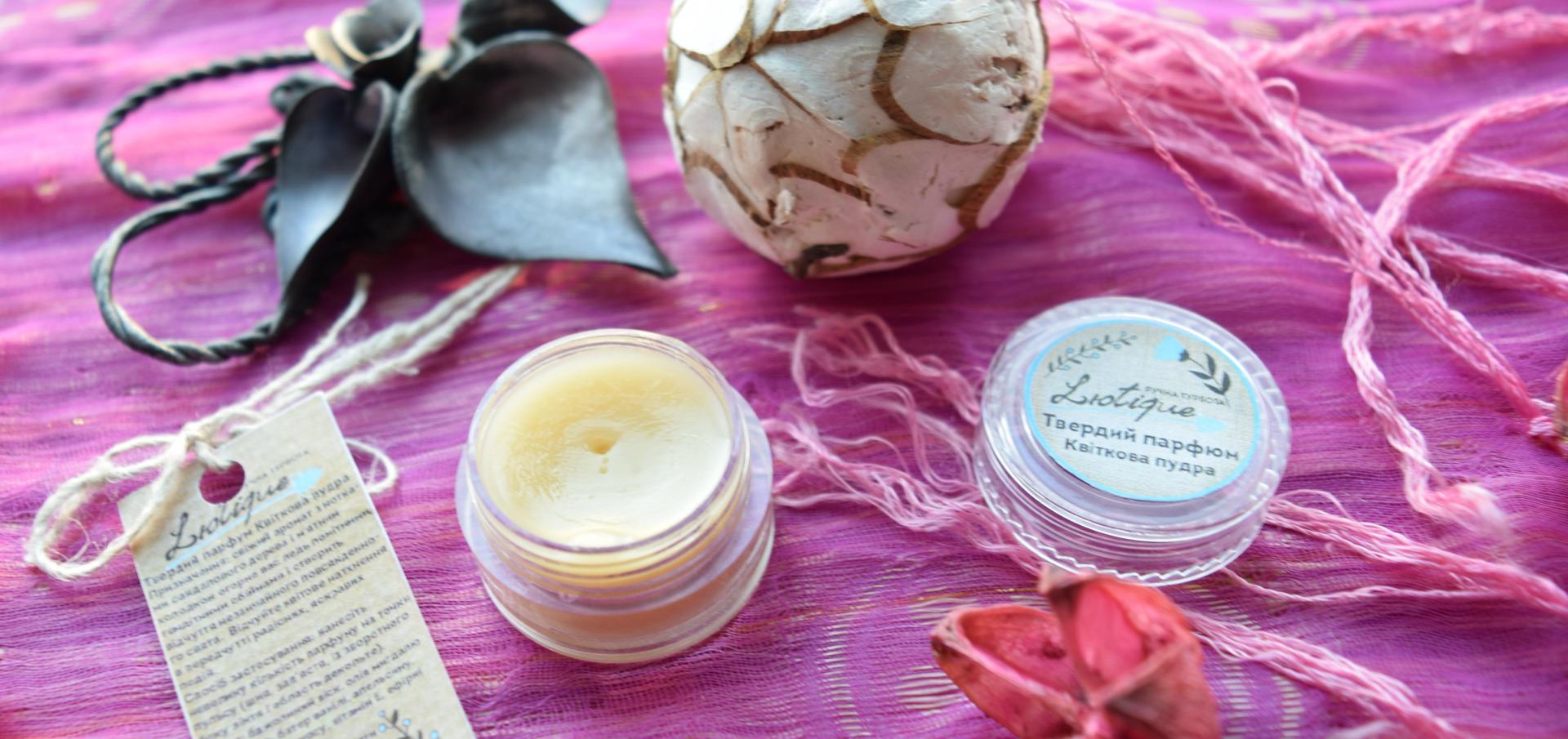 Some practical observations. The jar is very convenient. It's small so I can take it with me everywhere, even if I have got just a very small clutch. The aroma dissapeares after 3-4 hours of wearing it so I need to renovate it and I can do it quickly. I put the perfume on the skin just with a finger, it is easy (of cousre if the hands are clean!). And I have noticed that the Flower Powder isn't mixed with other cosmetical products - deodorant or perfumed cream. It always has got its own fragrance and it's always clear.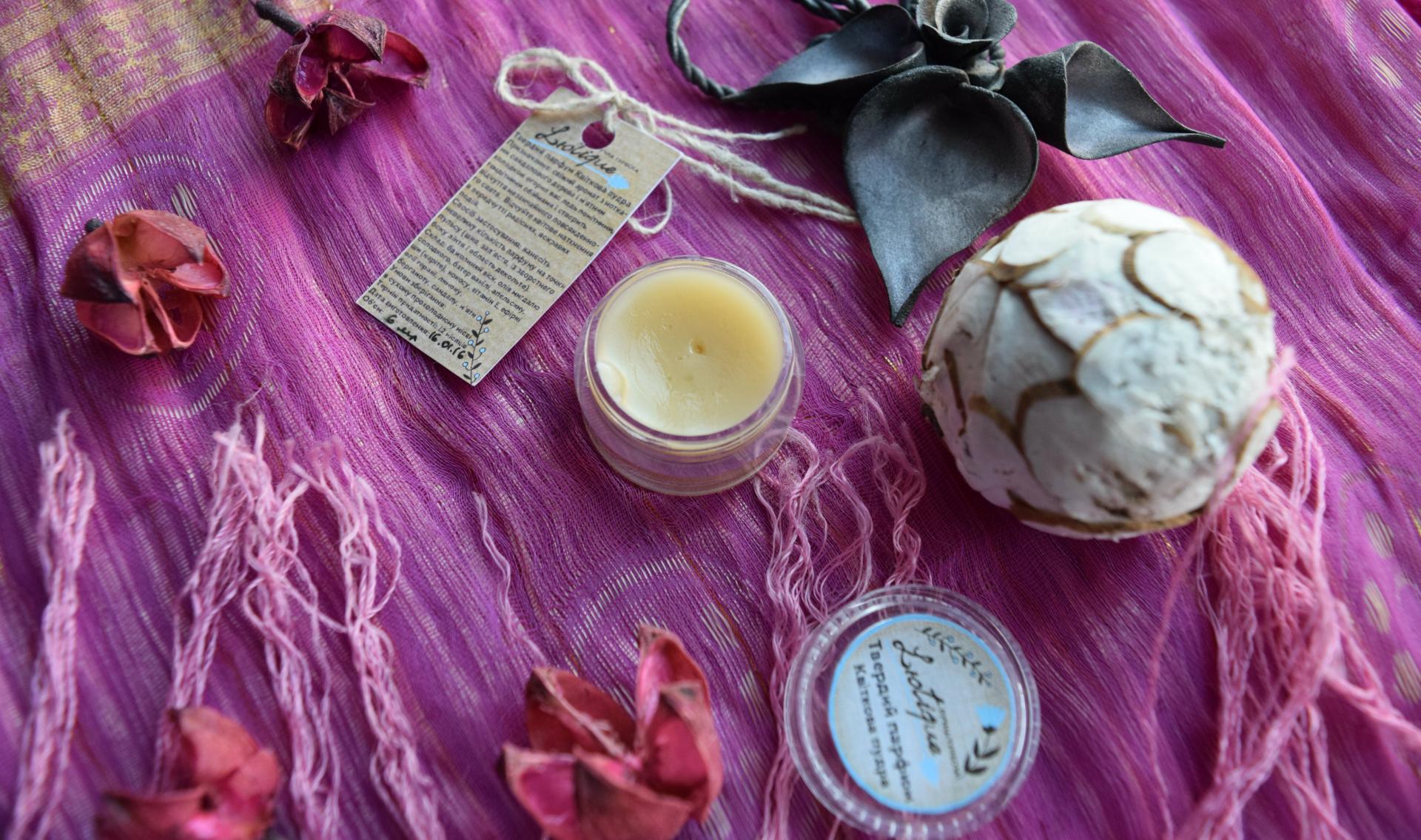 If I don't renovate the perfume the most part of aroma dissapeares but I can smell some undertones every day. The fragrance becomes almost imperceptible but it is on me, I know and people ask me what perfume I'm wearing. The product is organic so I understand why it dissapears quite quickly.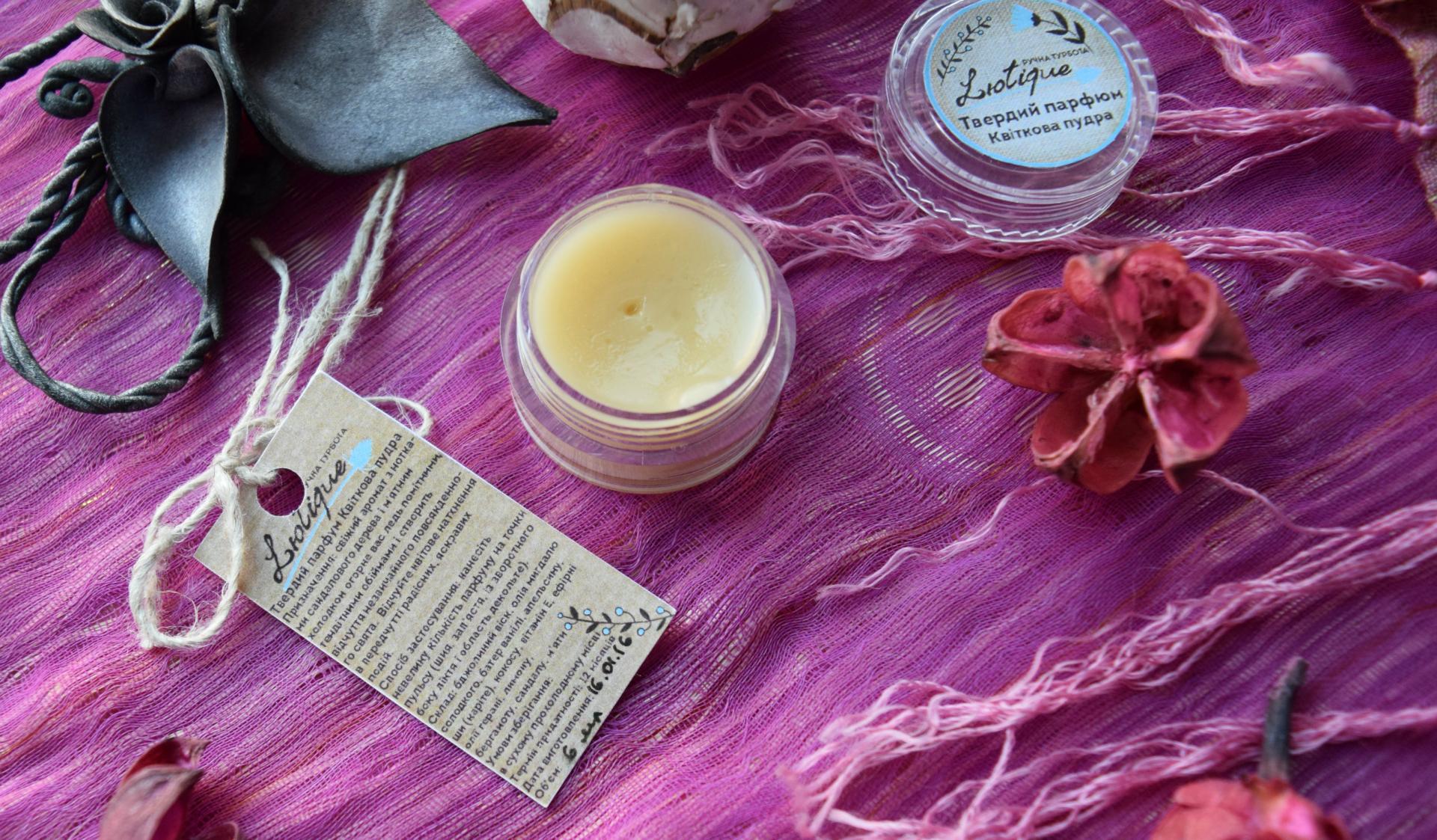 The solid perfum by Lюtique looks and like an ointment or dense lip balm and it is felt also like a balm. It is thick so it never flow on the skin. It just melt and dissapeared, you feel only the aroma. No spots on the skin or on the clothes. And the product is hypoallergenic because it contains of organic ingredients: beeswax, sweet almond oil, butter vanilla, orange, coconut, shea, vitamine E, essential oils of geranium, sandal, mint, bergamot and lemon.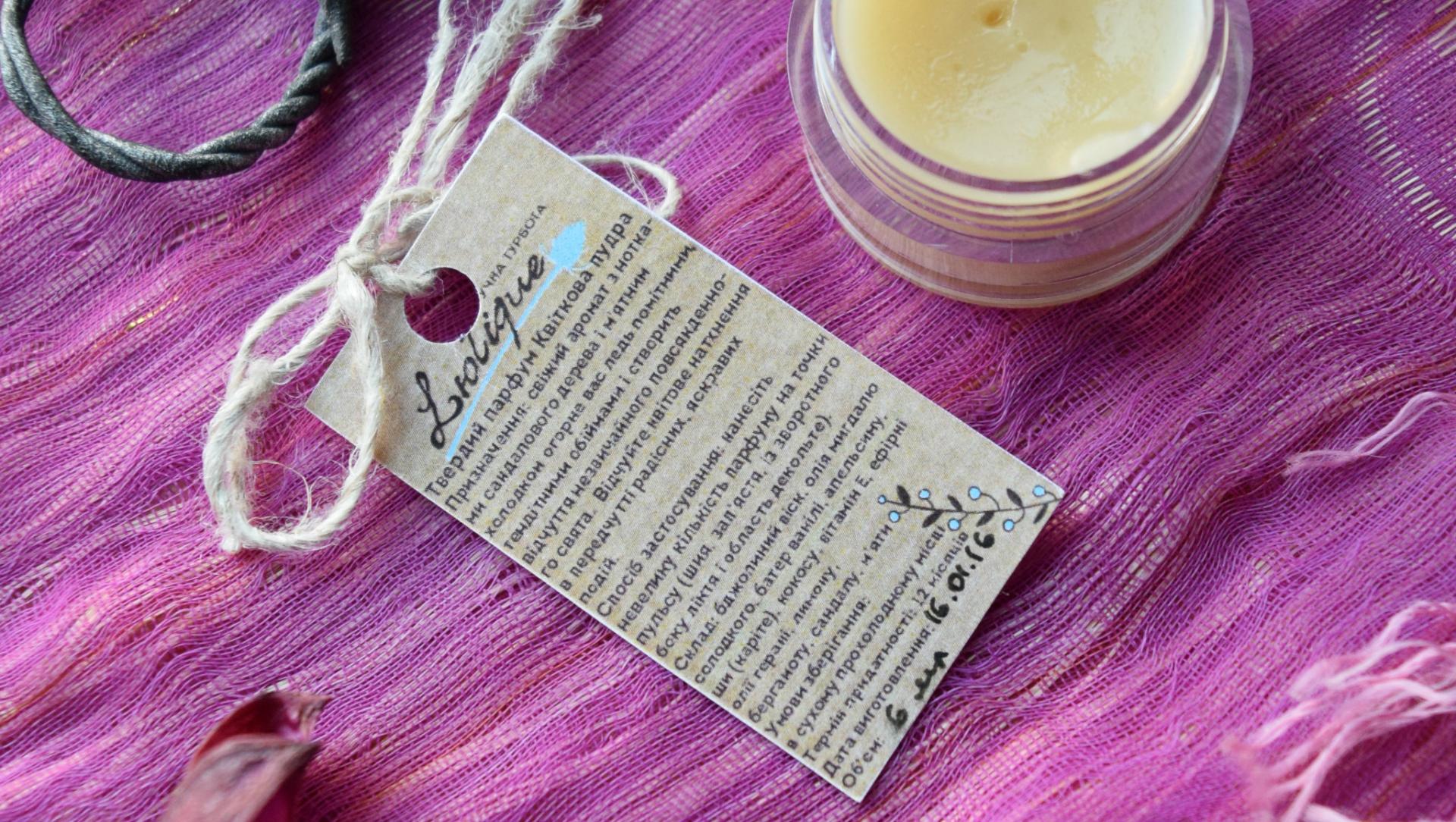 I put the perfume om the neck, on the places behind the ears and on the wrists. It's enough for me for smelling good. And I think this fragrance will be brighter in summer - when I won't have to wear lots of outerwear and scarves which "steal" the aroma.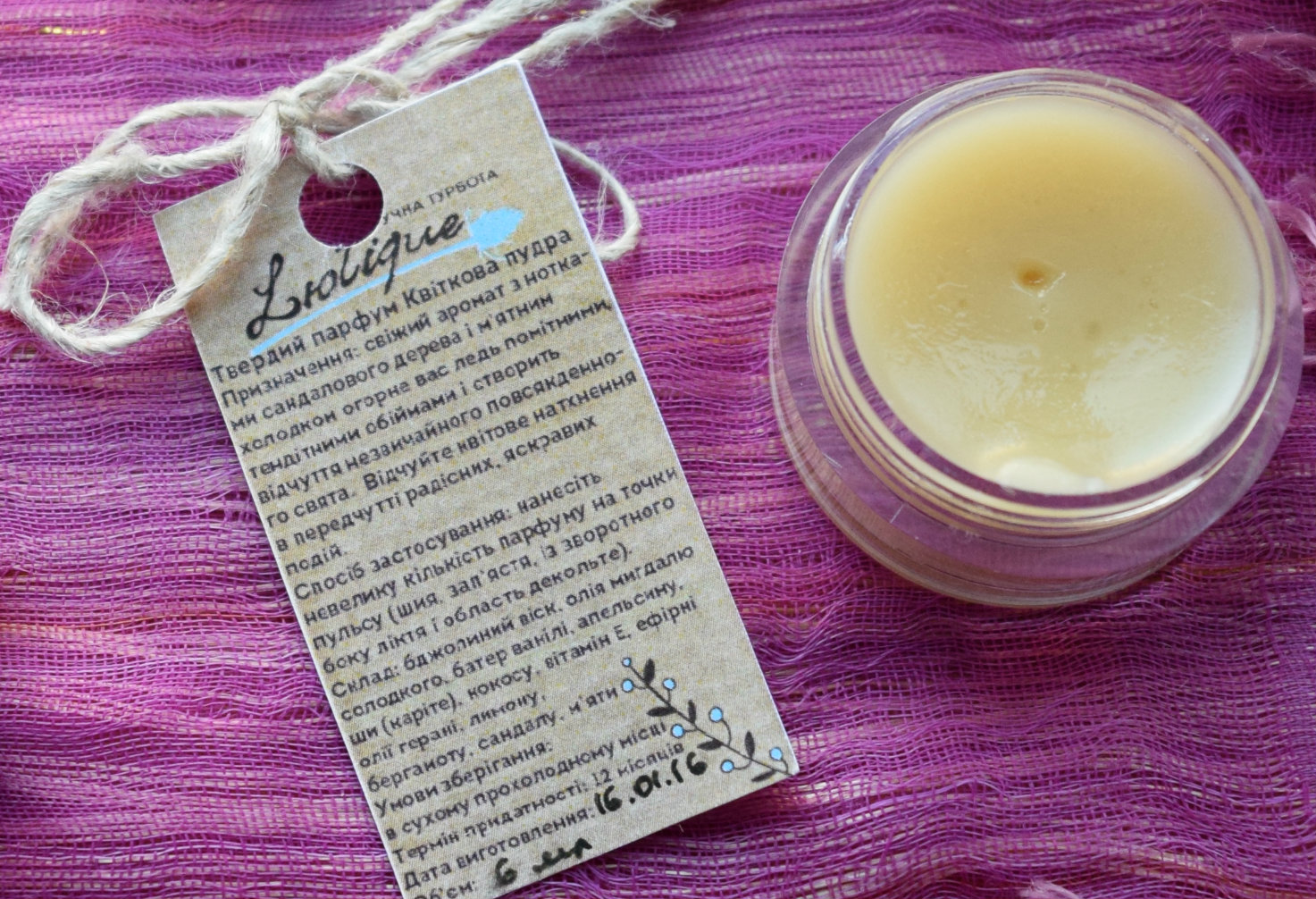 What do you think about this product? Do you like this kind of perfumes? Have you ever used the solid perfume? Which one?
*The solid perfume Flower Powder was given by Lюtique for independent testing. You can buy this product if you write to the producer on Facebook or in Instagram.