Rimmel collection Ink Me from benice.com.ua. Shine and be inspired!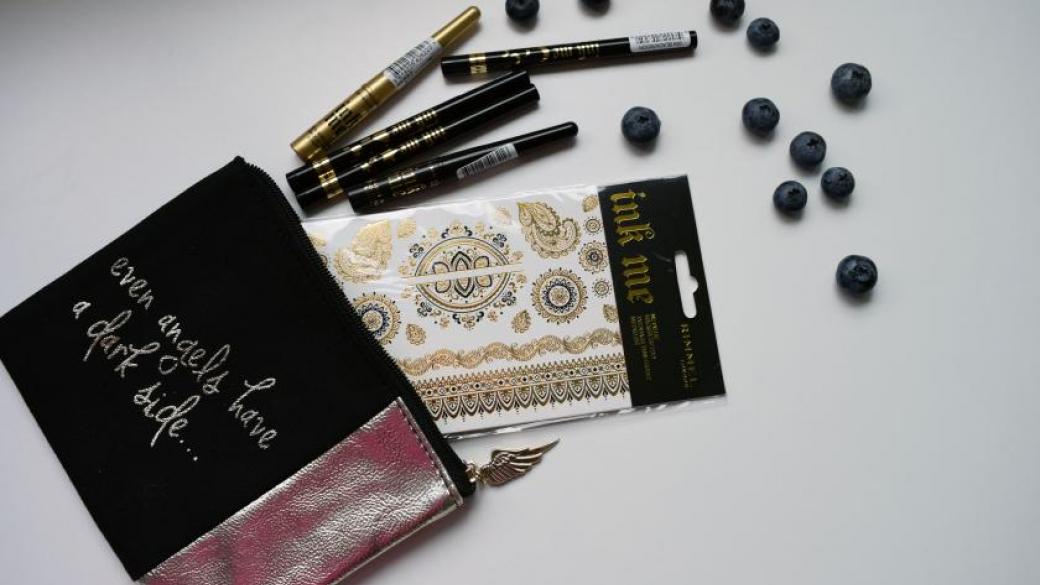 Incredible inspiration. I had not known what was it, while the online shop benice.com.ua has sent me a new Rimmel make up collection Ink me. Stamp tattoos, unusual eye liners, flash tattoos... I thought all these things should wear only schoolish girls... But now I wear them a lot and I don't want to tell you how old I am!. But I'd like to tell you about the collection Ink me by Rimmel.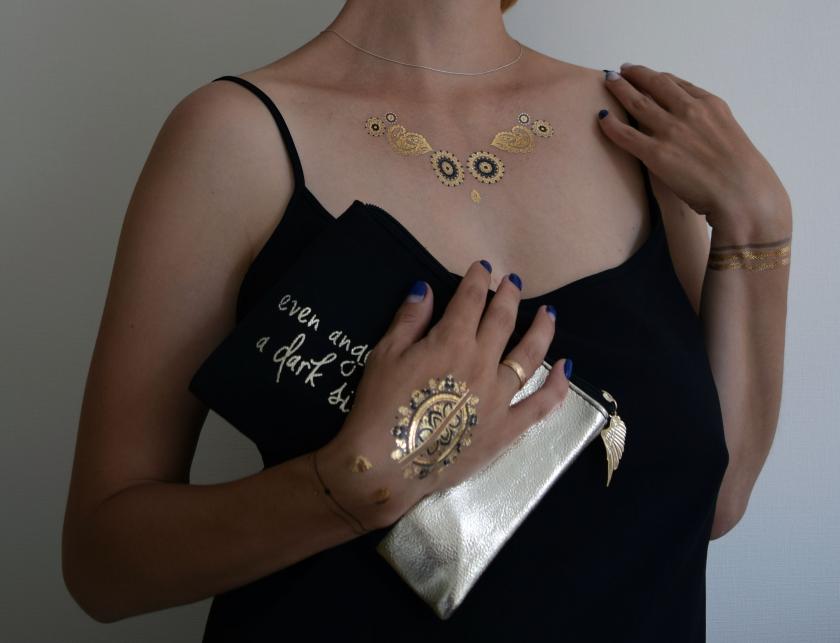 I got from benice.com.ua a set of unusual products. It was a surprise (as always with this shop!). There were:
Three tattoo stamps - hart, star, moon;
Two eye liners - Black and golden;
A set of flash tattoos - also in black and golden colours.
And a perfect small bag - also black and golden!!
And ALL of these is an inspiration in its pure shape!! Now I'm doing absolutely fabulous makeups and despite I thought I could not wear something except usual nude, now I make really creative things.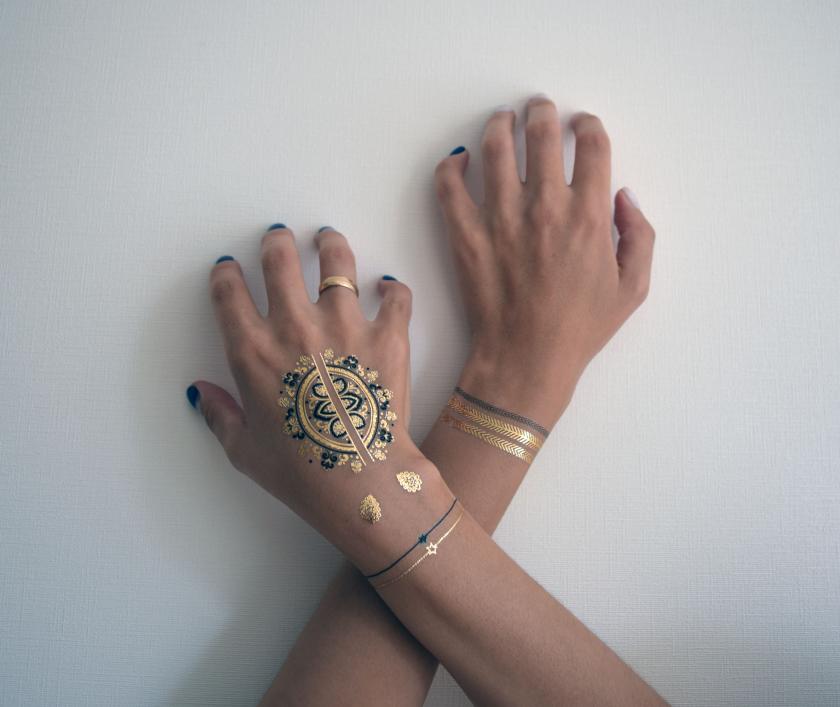 Eye liners Ink Me by Rimmel
The most typical products in this collection are liners. This pair we can wear in usual day in summer and not only.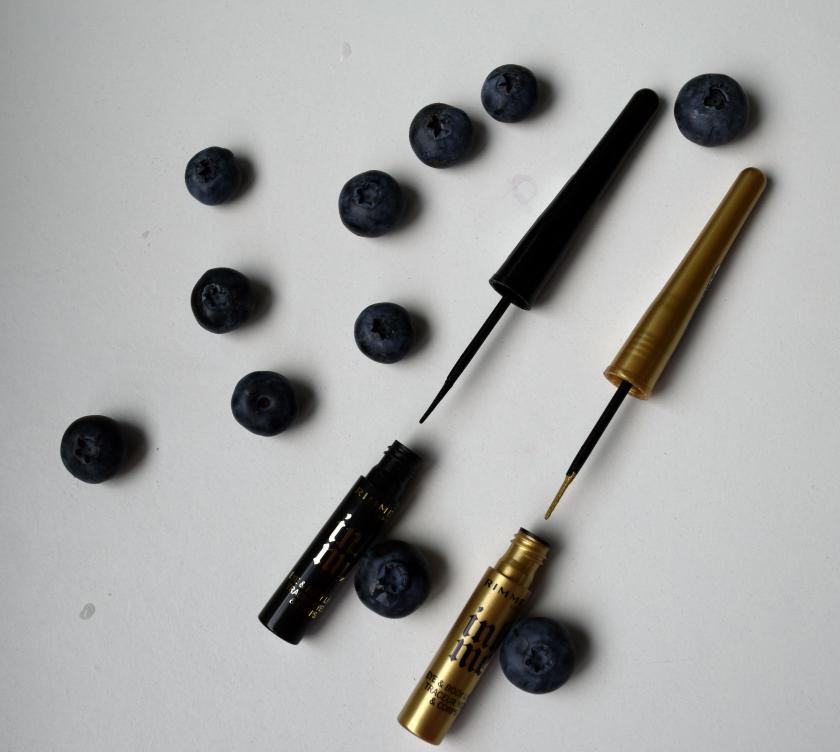 The black liner is the most versatile – it's for usual everyday lines, thin or thick.
The golden one is very creative, but even I can make friends with this unusual colour. It is for fantasy lines, which are suitable for a party or a festival.
Of course, both liners can be mixed or combined in one make-up. The lines can be thin or thick - as I want. And they can be used not only on eyelids, but on the whole body also. Are you going to go to the party? Take this pair with you!!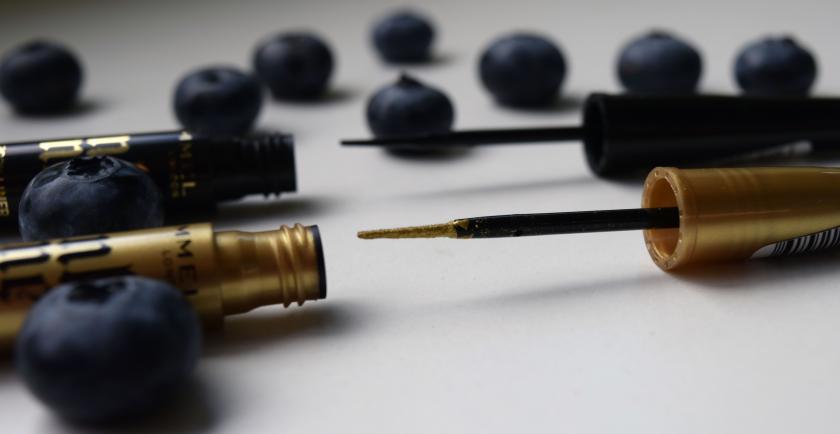 The most cool feature of liners is not their original and creative look. The best advantage is their incredibly chic brushes! Oh, these are the best brushes ever! A person invented them should get a Nobel prize, l'm serious! Usually we have got very thin and soft brushes in this type of eye liners. The Rimmel's ones are enough thin but also they are elastic and dense. That's why they help to draw confidentially... They are just ideal, especially if you can't draw lines well as can't I. Really, this is the first product of this type, which I can use without any efforts. And I use it every day.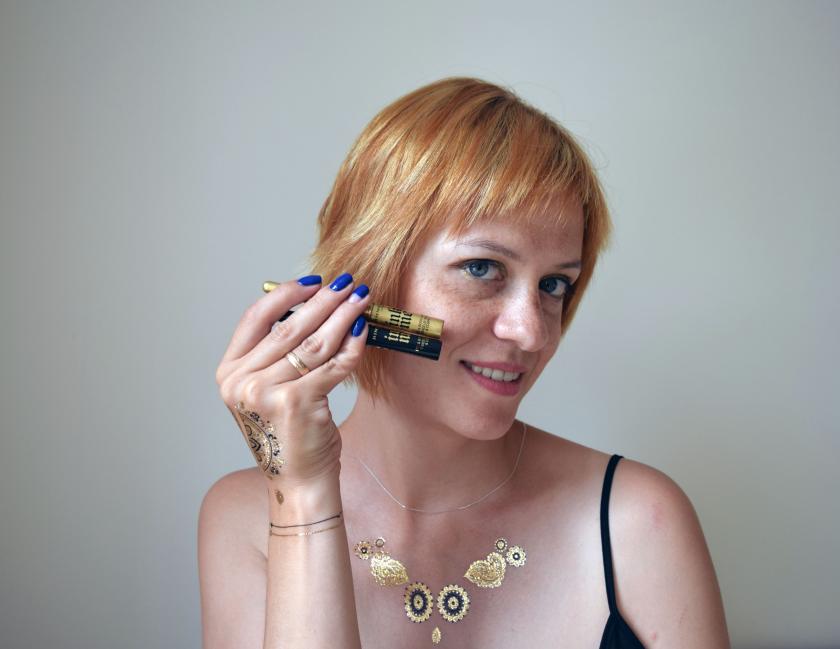 How are they worn?
Perfectly, especially with eye shadow base. But if you will decide to cry, the black liner can disappear before you want to remove it. The golden one is more longlasting. It is kept even after swimming! 
How to remove it? 
With a usual micellar water. Without any efforts!
Stamp tattoos Ink me
This is just a toy. But this is a very stylish toy. The product makes a real miracle, when I want to have got a creative make up. All summer party are mine!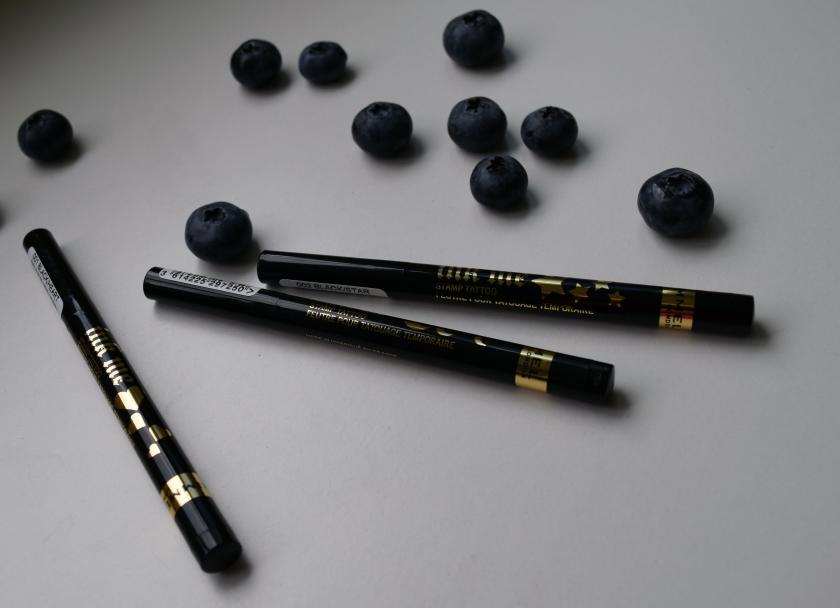 The stamps can be worn on a face or on a body... There are so many variants to try them, so I suggest to buy all collection and play every day! 
How are they worn?
Stamps are not so longlasting. Sometimes they are washed off even before you go to the party. It is possible, if you wash your hands, if you are hot and a sweat make the tattoo pale... Or if you are a child! My daughter can't wear stamps longer than a half of an hour.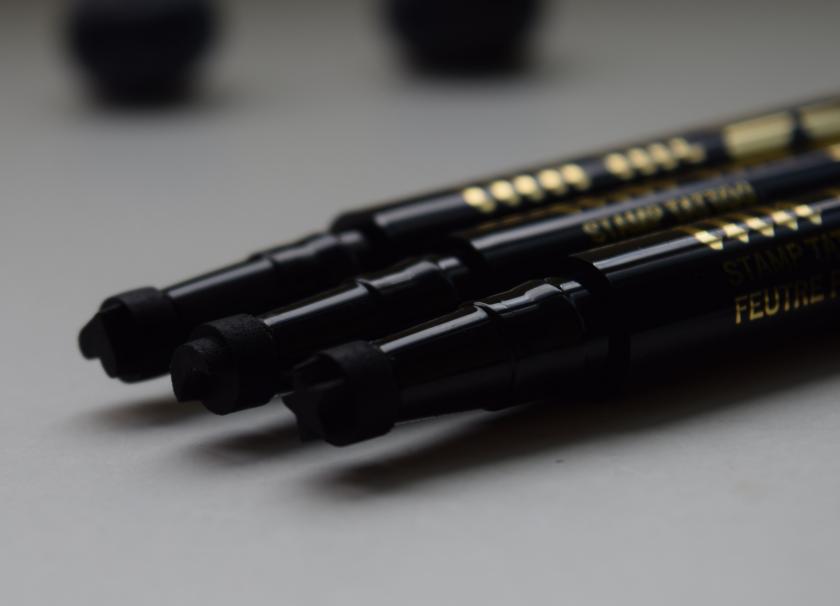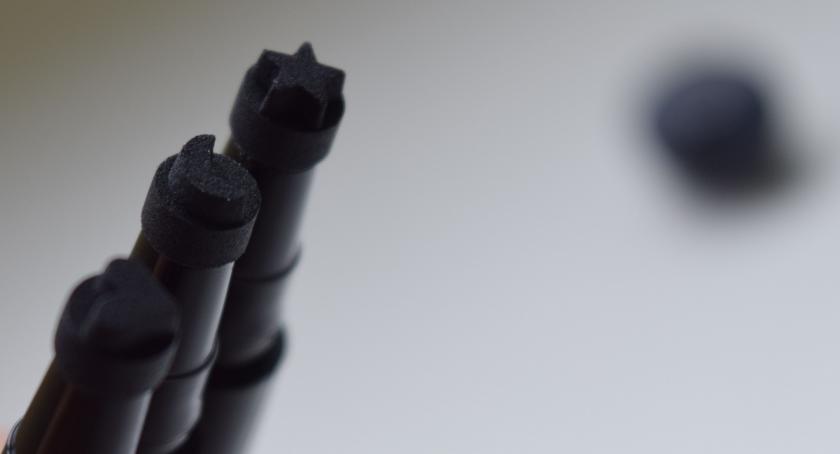 How to remove them?
Stamp tattoos can be washed off with a usual soap or a micellar water. So you can wear them only till the next taking a shower. But this is not bad! If you make a wrong stamp, you will remove or correct it easily, not removing all your makeup.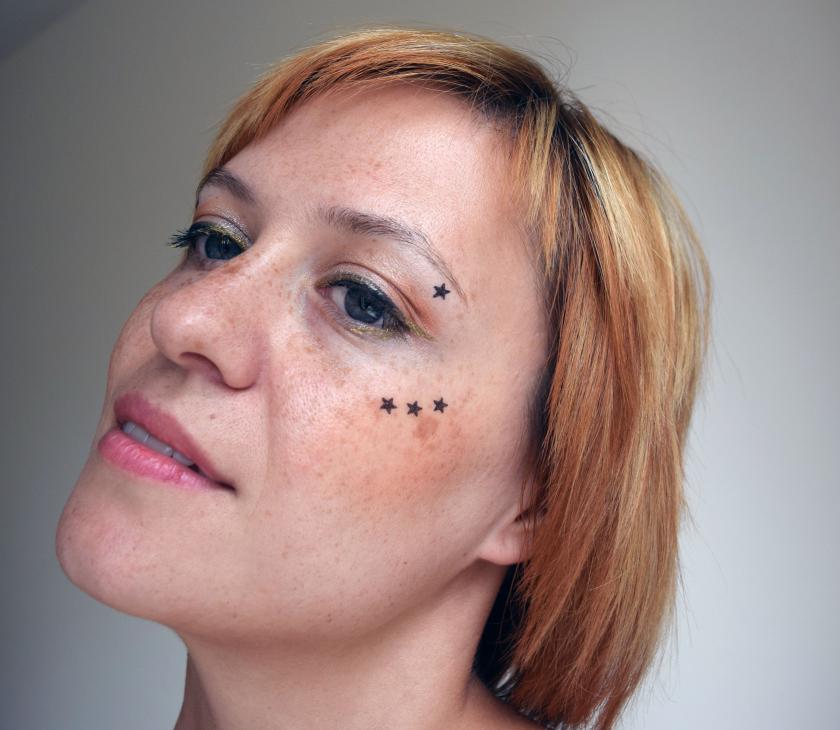 Flash tattoo Ink me by Rimmel
I thought this product has stopped to be trendy. But fortunately it hasn't! This is the most gorgeous way to make yourself different in a very short time. You just put your design... Of course, it shouldn't be just like on a paper with tattoos, you can mix patterns as you want. A few minutes and you have got a chic look!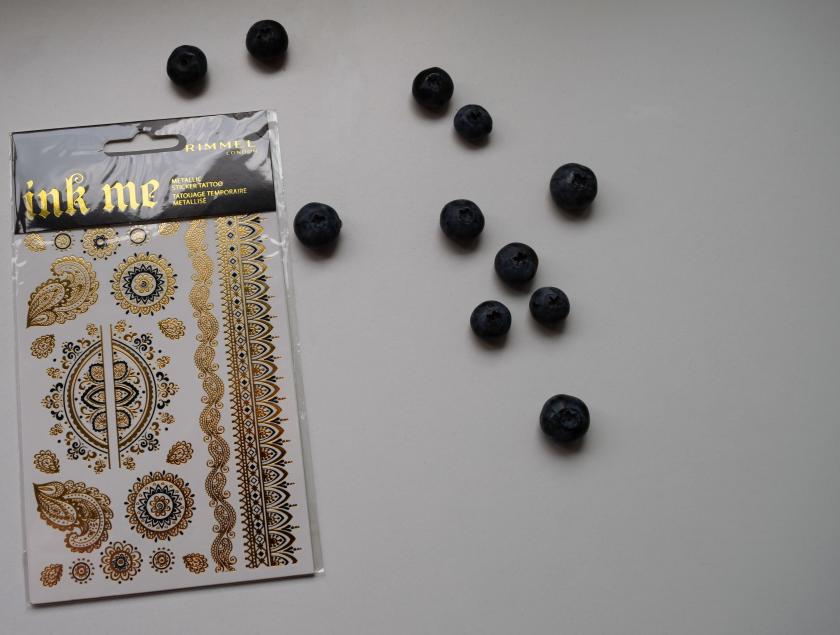 How are they worn? 
All flash tattoos are longlasting and these ones by Rimmel are not an exception. I wore my patterns on the chest 5 days and wash them off only because I wanted to put something new. Flash tatoos on my hand were worn less time - 1-2 days. I wash my hands often, so patterns disappear more quickly.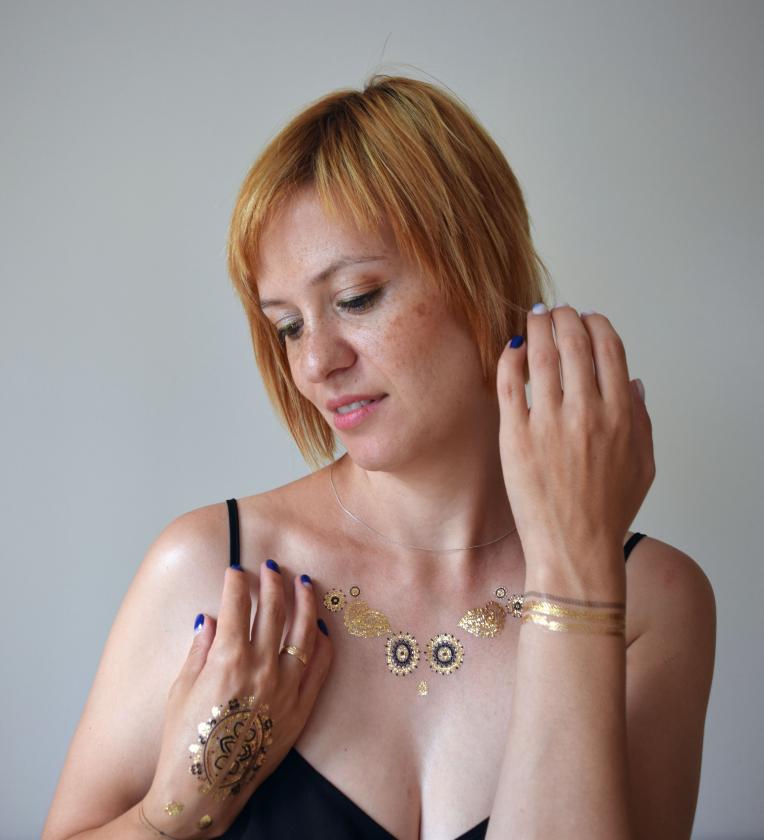 How to remove them? 
With oil! You can take hydrophilic oil, cosmetic oil or... I don't know, maybe even usual olive oil! Everything will work. Yes, you need to rub the skin, but without strong efforts. A few minutes - and your skin is ready for a new design!
Try to wear only well-looked flash tattoo. They look luxury. But if they started to be scratched...  they look not accurate.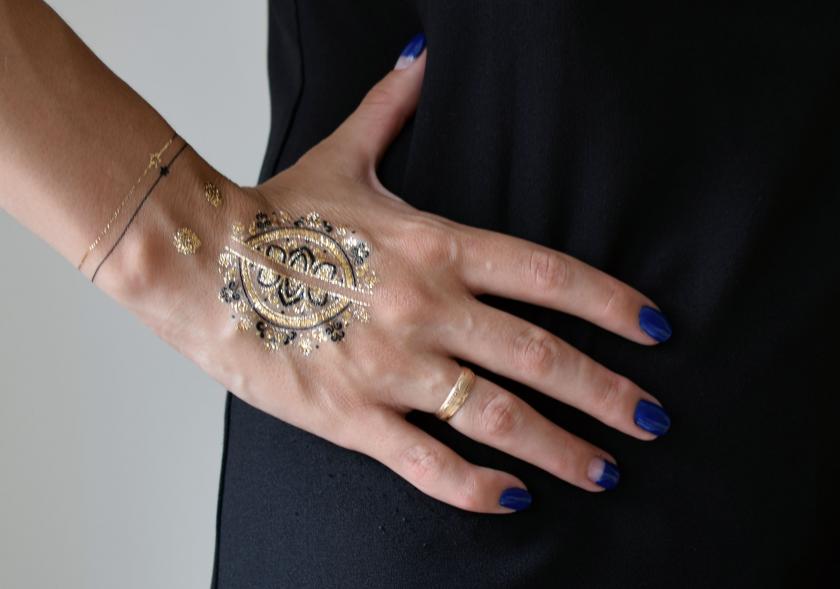 My resume
This collection is the best gift for all this summer. I have never been so happy and inspired, using a cosmetic novelty! I try new ideas, do experiments and I'm always glad to use a very good festive products, which make usual day just a holiday! 
Will I buy these products Ink Me again? Of course!
Do I recommend you to buy them? Without any doubts!
*All items from collection Ink Me by Rimmel you can buy on benice.com.ua. 
The products were sent for independent testing. 
Prices:
Rimmel tattoo stickers (flash tattoos) - 109 UAH ($4);
Rimmel stamp tattoos - 101 UAH ($3,85)$
Rimmel eye liners - 143 UAH ($5,45)
There are very good discount on benice.com.ua - you an buy all this collection and other Rimmel cosmetics with chic prices!