Review: Body milk Lavender by AlpStories. My everyday enjoyment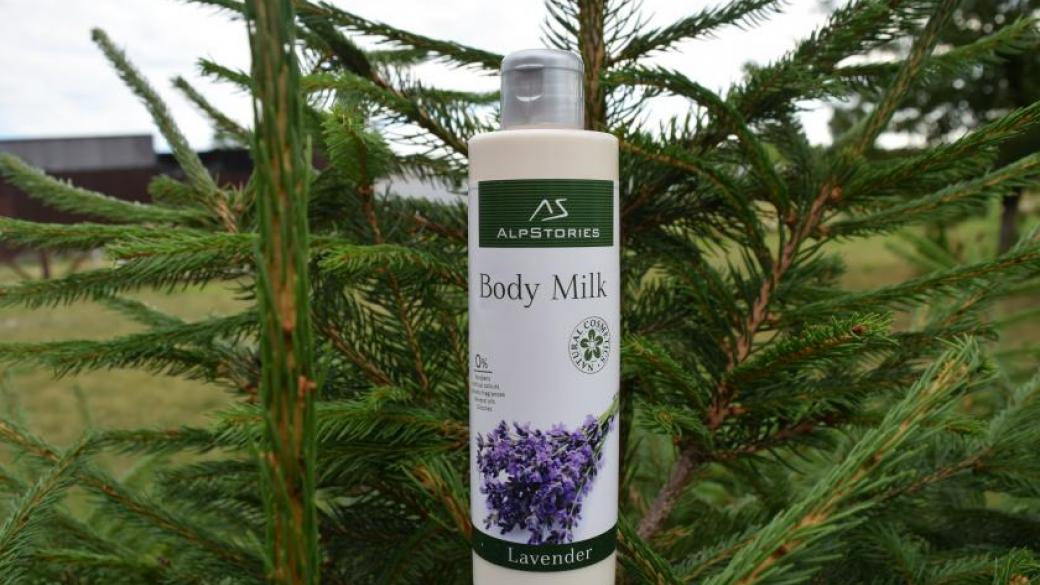 Usually I forget to use body care cosmetics. I'm so lazy and sometimes I just don't want to waste time on using these products. All products except one. A body milk Lavender by Slovenian brand AlpStories. This body care I can use 100 times per a day! Why? Let's look in my today review!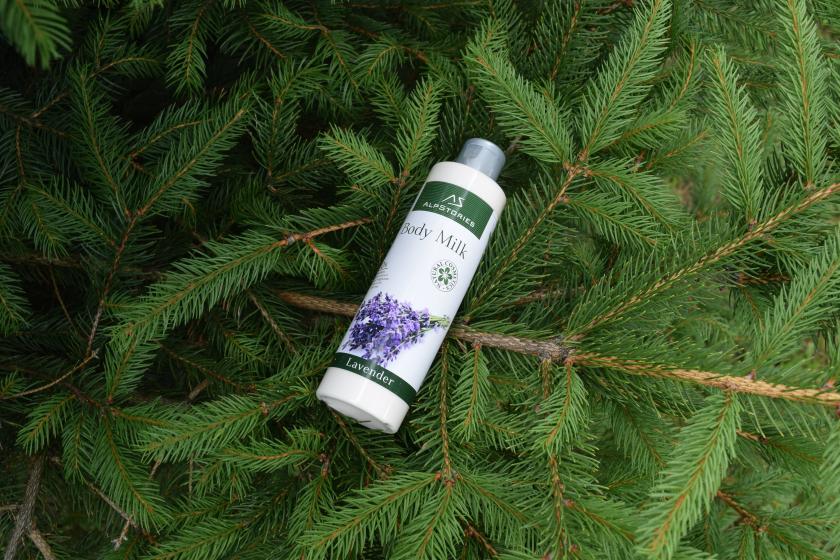 Why can I highly recommend products by AlpStories? I wrote about it earlier and I can just repeat: 
This cosmetics is natural – there are lots of organic ingredients in the compositions, 
All products are parabens, mineral oils, artificial dyes and aromas free,
Cosmetics is cruelty free and vegan.
I have never had irritation of the skin after it and I have never heard that someone made complains. Only advantages! I can add also light textures and perfect aromas (especially in Lavender series). So I use each new product with a pleasure and the body milk Lavender hasn't been an exception.
The whole list of ingredients:

I started to use this product in summer, then I used it in fall and after that I have continued to put it on the skin in winter. So I have been able to estimate this product in  different seasons and different situations. The product has got quite a big bottle and there is enough body milk for long, long time!
The best feature of this body milk by AlpStories – its texture. The product is light, very light so you can use it even before you get dressed: the product is absorbed quickly and never makes spots on the clothes. Also this milk is a good idea on a beach: it will be irreplaceable after the sun and the sea. And it will be invisible on the skin.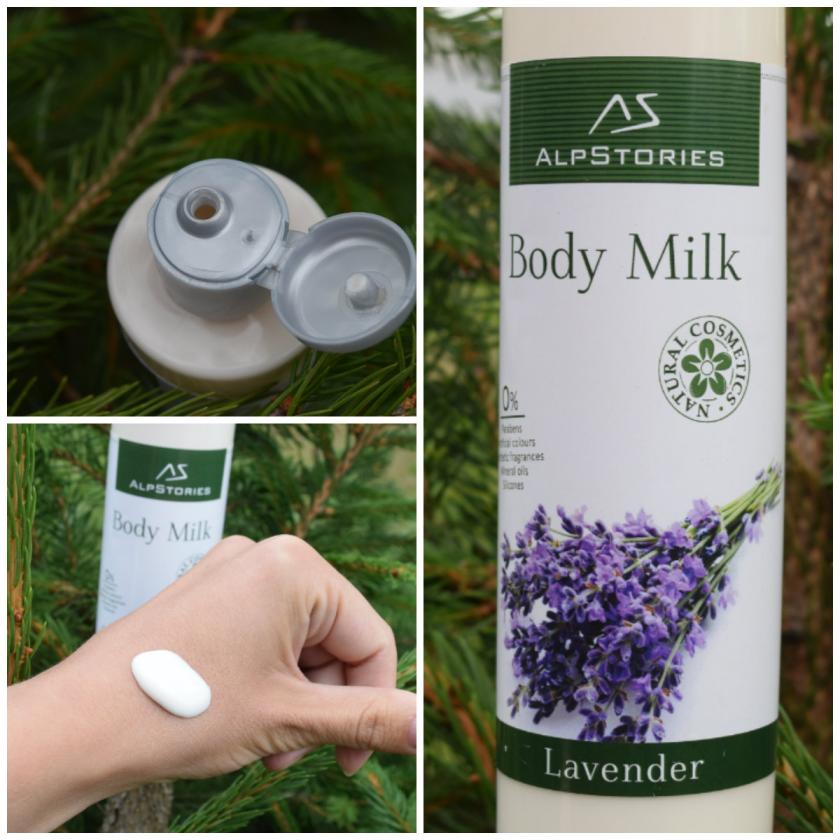 I recommend using the body milk Lavender by AlpStories as an everyday skincare. I put it on the skin in the evening after taking a shower. Not every day because the milk has got a long lasting effect and the skin doesn't need it so often. After the product the skin is elastic and moisturized well, I feel no oiliness, just a light purity. But I can say that this product helps only when the skin hasn't got really big problems. If there is an irritation on the body or the skin became harsh and tough you should treat it with other products. The body milk can be only a "masterstroke". 
The product is especially good after the shower gel Lavender which I have written about. But it can work also in pair with other shower products (not only by AlpStories). The milk is combined well with natural soap or children gels and soaps which haven't got bright aromas.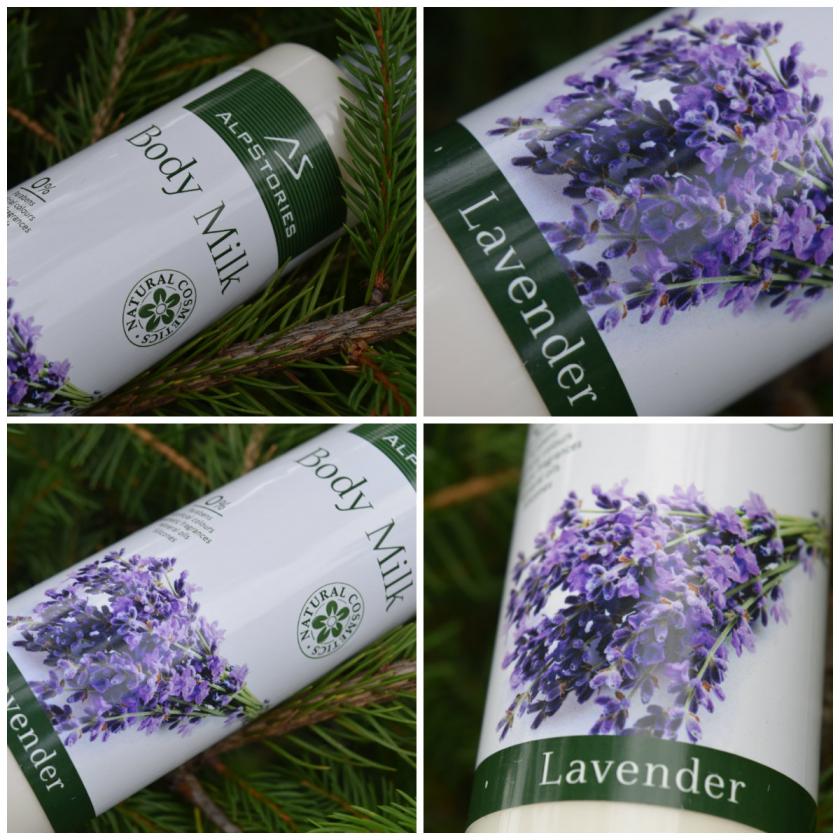 And I have notice one more interesting feature. The Lavender series by AlpStories in general and this body milk especially have got a calming effect. This is like an aromatherapy: tender and gorgeous aroma of lavender calms you, makes you relax after a hard day, helps you to fall asleep quickly. That's why I don't use this body milk every day: it is for special days when I feel really tired.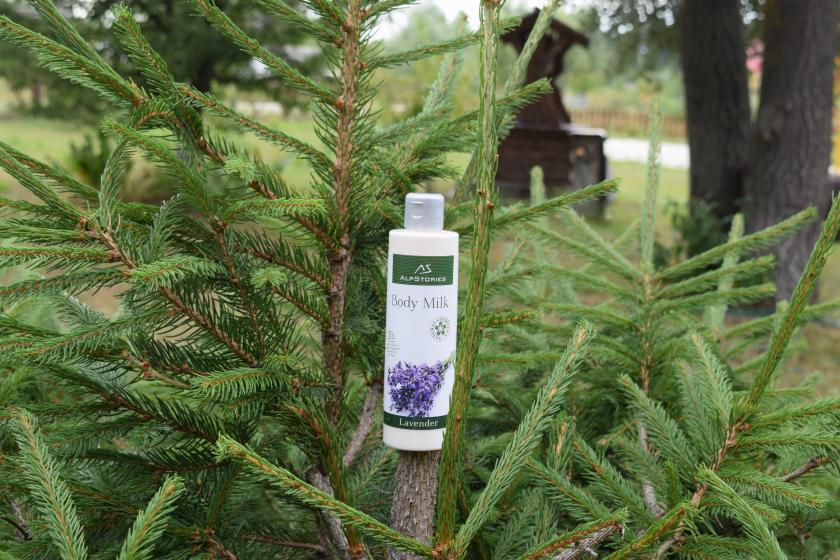 Cosmetics by AplStories is quite expensive. But I think that it is worthy its money. Especially if you will concentrate on its face care and body care products. They are very long lasting, they are very effective and they are always the best idea. So if you want to start only now choose the Lavender series. This will be a gorgeous gift for your skin!
Have you tried this cosmetics? Which product by AlpStories do you like mostly? Do you use a body milk?
*The body milk Lavender has been given by AlpStories for independent testing.
You can buy it here.
Price - 399 UAH ($14,6)